Turkey to serve as protecting power for U.S. in Libya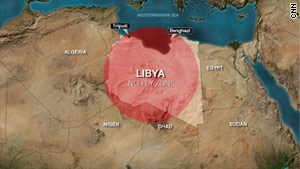 A coalition of international forces is enforcing a no-fly zone over Libya.
STORY HIGHLIGHTS
NEW: Turkey will also represent Italian and British interests
Turkey will represent U.S. interests in Libya
It will look after American diplomatic facilities
Turkey can also pass messages between the two nations
Washington (CNN) -- Turkey will serve as a "protecting power" for the United States in Libya, senior State Department officials told CNN on Sunday.
As a protecting power, Turkey will represent the United States in Libya, including acting as consular officers on behalf of U.S. citizens in Libya and looking after American diplomatic facilities in the country.
Turkey can also pass messages between the United States and Libya, as what little communication remains between the two countries is likely to come to a grinding halt now that the U.S. is bombing Libyan targets as part of enforcement of a no-fly zone.
Levent Sahin Kaya, Turkish ambassador to Libya, told CNN he will represent America in Libya along with the United Kingdom and Italy.
Although the United States has not formally suspended ties with Libya, the U.S. State Department shuttered its embassy earlier this month and withdrew all of its diplomats from the country. The State Department also ordered the Libyan embassy in Washington closed and ordered its diplomats to leave the country. It recognized Ali Aujali -- the former ambassador who resigned from the regime in protest of its violence against citizens and joined the opposition -- as the legitimate representative of the Libyan people.
Officials said Libya has not yet identified a protecting power of its interests in the United States.
CNN's Talia Kayali contributed to this report.

Part of complete coverage on

Pro-Mubarak supporters believe Egypt's former president is innocent of charges of corruption and killing protesters.

Fighting in Libya started with anti-government demonstrations in February and escalated into a nationwide civil war.

After months of seeming stalemate, Libyan rebels declared they were moving in on Tripoli. But who are they?

Six months and more than 17,000 air sorties after it began, NATO's Operation Unified Protector in the skies over Libya grinds on.

Click on countries in CNN's interactive map to see the roots of their unrest and where things stand today.

Are you in the Middle East or North Africa? Send iReport your images. Don't do anything that could put you at risk.

Behind the official smiles for the cameras some people in Libya's capital are waiting for the rebels, reports CNN's Ivan Watson.

Tunisia's Mohamed Bouazizi not only ignited a series of revolts but heralded the first appearance of Arab youth on the stage of modern history.


Most popular stories right now