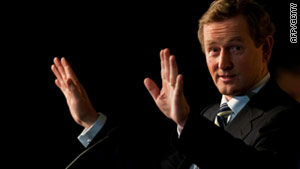 PM-designate Enda Kenny said during the election campaign he wanted to renegotiate the country's bailout package.
STORY HIGHLIGHTS
NEW: Both parties overwhelmingly approve the coalition plan
NEW: Fine Gael leader Kenny says the new government offers "stable and strong governance"
The Ministry of Finance will be split between two ministers, the parties say
Last week's election marked a major defeat for ruling Fianna Fail
(CNN) -- The two largest parties after Ireland's recent general election said Sunday they have agreed to form a coalition government.
Center-right Fine Gael and center-left Labour will take power when the new parliament meets for the first time in Dublin on Wednesday.
Members of both parties Sunday overwhelmingly backed a deal recommended by their party leaders.
Members of Fine Gael -- the biggest party in the new parliament -- and Labour approved the proposed program for government, which had been thrashed out by senior party officials during days of negotiations.
Fine Gael leader and prime minister-elect Enda Kenny said the new government "will give stable and strong governance to Ireland and its people.''
At a special conference to vote on the program, Labour leader Eamon Gilmore told delegates that the coalition was not a continuation of the policies being pursued by the outgoing government, but was "a clear departure."
Gilmore said "a national government" was being formed because of the enormous economic difficulties facing Ireland.
The parties said the Finance Ministry will be divided between a minister for public expenditure and reform and a minister for economic planning and banking.
They added there will be no income tax increases and no social welfare cuts. Public-sector job cuts will be between 21,000 and 26,000, while a budget for jobs will be delivered within months.
Both parties said they remain determined to renegotiate the strict terms of Ireland's multibillion-dollar bailout package.
The previous Dublin government negotiated the 85 billion-euro ($118 billion) loan package from the European Union, International Monetary Fund and individual European nations late last year. It was prompted by the crippling cost of the government's bailout of Irish banks during the financial crisis, but it was extremely unpopular with voters, as was the accompanying government austerity budget.
Many voters blamed the previous governing party, Fianna Fail, for the country's monetary woes, and former Prime Minister Brian Cowen was so unpopular he had to step down as party leader before the February 25 election.
The new coalition said Sunday that while it wants to renegotiate the international bailout, it will stick to its predecessor's budget targets.
Fine Gael leader Kenny has already raised the issue of the financial bailout with European leaders who called to congratulate him on his imminent appointment as prime minister, or taoiseach.
He has also spoken by telephone to European Commission President Jose Manuel Barroso.
Kenny was in Helsinki, Finland, Friday for a meeting of the European People's Party, with which Fine Gael is affiliated. He is due to follow that up with a meeting at the European Council in Brussels, Belgium, this week.
The contacts are intended to garner support for renegotiating the loan package.
Kenny described the Irish election as "a democratic revolution at the ballot box."
Fine Gael, Labour and Sinn Fein all won record numbers of seats, but Fianna Fail suffered a crushing defeat, losing three-quarters of its lawmakers.
The Green Party, which had been in coalition with Fianna Fail, lost all six of its members of parliament.
Fine Gael emerged as the biggest party in the election but didn't gain an overall majority, prompting the coalition talks with Labour.
FOLLOW THIS TOPIC