Gadhafi 'must go,' British foreign secretary says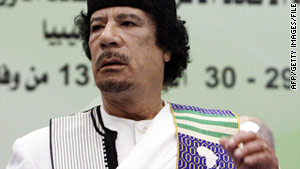 Britain has revoked the diplomatic immunity of Moammar Gadhafi and his family.
STORY HIGHLIGHTS
NEW: The British government freezes the assets of Gadhafi and his family
The "best hope for Libya" is for its longtime leader to go, William Hague says
The UK has already revoked diplomatic immunity for Gadhafi and his family
London (CNN) -- Libyan leader Moammar Gadhafi "must go," British Foreign Secretary William Hague said Sunday, as Britain froze the assets of Gadhafi and his family.
"The people of Libya have risen up against Colonel Gadhafi," Hague said. "We have here a country descending into civil war with atrocious scenes of killing of protesters and government actually making war on its own people, so of course it is time for Colonel Gadhafi to go.
"That is the best hope for Libya," he said, adding that he had revoked the diplomatic immunity in the United Kingdom of Gadhafi, his sons, his family and his household.
"So it's very clear where we stand on his status as a head of state," Hague said on the BBC's "The Andrew Marr Show."

Gadhafi's history of tension with the West
The British government said Sunday it was freezing the assets of Gadhafi, five of his children and those acting on their behalf.
British Chancellor George Osborne said the move makes sure the assets "cannot be used against the interests of the Libyan people," and is "a strong message for the Libyan regime that violence against its own people is not acceptable."
FOLLOW THIS TOPIC


Part of complete coverage on

Pro-Mubarak supporters believe Egypt's former president is innocent of charges of corruption and killing protesters.

Fighting in Libya started with anti-government demonstrations in February and escalated into a nationwide civil war.

After months of seeming stalemate, Libyan rebels declared they were moving in on Tripoli. But who are they?

Six months and more than 17,000 air sorties after it began, NATO's Operation Unified Protector in the skies over Libya grinds on.

Click on countries in CNN's interactive map to see the roots of their unrest and where things stand today.

Are you in the Middle East or North Africa? Send iReport your images. Don't do anything that could put you at risk.

Behind the official smiles for the cameras some people in Libya's capital are waiting for the rebels, reports CNN's Ivan Watson.

Tunisia's Mohamed Bouazizi not only ignited a series of revolts but heralded the first appearance of Arab youth on the stage of modern history.


Most popular stories right now