France suspends arms sales to Egypt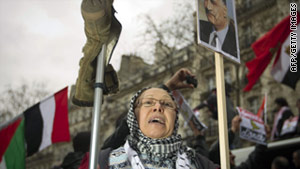 A woman holds a poster with a picture of former Egyptian President Nasser at a protest in Paris on February 5.
STORY HIGHLIGHTS
Paris won't send weapons or tear gas to the country, the prime minister's office says
It's not clear what effect that will have on protests
Paris (CNN) -- France suspended the sale of arms and tear gas to Egypt, a spokeswoman for French Prime Minister Francois Fillon said Sunday.
It's not clear how much effect the move will have on Egypt, which has been wracked by anti-government demonstrations for nearly two weeks.
France did not deliver any arms to the country between 2005 and 2008, according to a U.S. Congressional report.
The United States is Egypt's largest arms supplier by far, delivering $4.8 billion in weaponry to the country in that period.
China was second with $500 million in deliveries, according to the Congressional Research Service report, "Conventional Arms Transfers to Developing Nations, 2001-2008," published in September 2009.
CNN's Eleonora Corsini contributed to this report.
FOLLOW THIS TOPIC