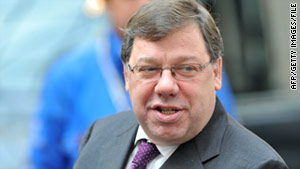 Irish Prime Minister Brian Cowen says his decision to seek re-election is "not motivated by personal ambition."
STORY HIGHLIGHTS
NEW: The foreign affairs minister offers his resignation but it is not accepted
Prime Minister Brian Cowen will put confidence vote before his party
His decision is "not motivated by personal ambition," he says
Cowen faces controversy over an EU-led bailout
(CNN) -- Irish Prime Minister Brian Cowen said Sunday that he wants to maintain his post and seek re-election, and will put a confidence motion before his party.
After consultations with his party colleagues, "I've come to the conclusion that I should continue to lead the party," he said at a news conference, adding that he believes the decision is in the best interests of the country and "not motivated by personal ambition."
At a parliamentary meeting, his party, Fianna Fail, will take the confidence vote by secret ballot Tuesday, he said.
He vowed that his party will "unite behind whatever decision is taken."
Also Sunday, Ireland's Foreign Affairs Minister Micheal Martin said he would vote against Cowen on Tuesday and that he had offered his resignation. The prime minister, however, did not accept his offer, Martin said. He will continue for now in his job as foreign affairs minister, a position he's held since 2008.
"I will, in accordance with my views, be voting against the motion of confidence," Martin said. "I have reluctantly concluded that, in these circumstances, Fianna Fail should change its leader before the election."
Ireland's next elections are due to take place over the next few months.
Cowen has become a lightning rod of controversy, largely for his leadership in the economic crisis the country is facing.
Ireland accepted an 85 billion euro (U.S. $113 billion) bailout package last month from the European Union, International Monetary Fund and individual European nations. Cowen requested the loan in November after days of insisting Ireland did not need help.
The goal of the aid, the Fianna Fail party said, is to return the nation's economy to sustainable growth and restore the health of its banking system.
A related four-year government austerity plan achieves savings through welfare cuts worth 10 billion euros ($13.2 billion) and higher taxes, expected to bring in 5 billion ($6.6 billion).
Ireland also unveiled a tough new budget, changing the income tax system, raising taxes on gasoline and diesel fuel and reducing benefits for parents.
Dublin is cutting 6 billion euros (nearly $8 billion) from its budget as it tries to claw its way out of massive debt.
In his remarks Sunday, Cowen said his nation faces "immense challenges," including "some of the most difficult economic times" since Ireland's founding. He insisted that his government's actions have served to stabilize the economy.
He accused rival parties of benefiting from the fact that they don't currently hold the responsibility of governing through the economic crisis.
Cowen said he looks forward to "a balanced national political debate."
Journalist Peter Taggart contributed to this report.