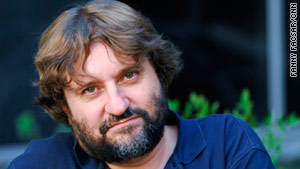 Political scientist Andras Bozoki fears how the new media law will be used.
STORY HIGHLIGHTS
Protest against new Hungarian media law expected Friday

The new law oversees all print, online and electronic media and can impose big fines

Critics in Hungary and abroad say the law is too vague and its scope too wide

Supporters say the law goes no further than similar legislation in other European Union countries
Budapest, Hungary (CNN) -- Protesters who banded together online are expected to take to the streets of Hungary on Friday to protest a controversial new media law that triggered an avalanche of criticism.
The protests have been brewing and organizing on social networks and blogs, despite Hungarian Prime Minister Viktor Orban saying last week that he will change the law if the European Union wants.
Hungarian journalists already appear to be walking a fine line between self-censorship and informing the public, Hungarian media figures say.
The new National Media and Infocommunications Authority (NMHH) is, for them, a particular concern. Under the new law, it oversees all print, online and electronic media and can impose big fines if news is not "balanced."
Critics in Hungary and abroad say the law is too vague and its scope too wide.
"The media law will probably not be used during Hungary's EU-presidency in order to calm down the international press," says Andras Bozoki, a well-known political scientist at the Central European University in Budapest. "But if we do not pay further attention, they will start using it from July 2011."
Many members of the Facebook generation in Hungary don't trust that "Uncle Orban" -- as some call the prime minister -- will change the law.
They want to do something while the world is still watching.
More than 6,000 people have signed up to a Facebook site saying they will join a demonstration planned for Friday in Kossuth-Square outside the parliament in Budapest, a place that has often served as a scene of political protests in Hungary.
A Hungarian site on Facebook, which translates as "One million for the Hungarian press freedom" is leading the charge against the new law. It was established on December 21, when the government passed the law. Since then, many online activists have mobilized against it.
But it remains unclear who exactly is behind the page. "The organizers have to identify themselves," wrote Mátyás T. while Leticia H. asked: "Who and what awaits us there actually on Kossuth-Square?"
Bozoki said : "It will be a first real test of the Facebook generation in Hungary to organize itself against autocracy. There is a young generation whose members grew up in freedom, so they should also learn the value of democracy. It is not given, it should be defended day by day."
But the Media Act also has supporters active online including "I support the law because I have read it."
The Facebook page appears to have far fewer followers, and there are not calls for a counter-demonstration.
Supporters of the law write they are angry at the "baseless criticism", because they say it does not differ from other media laws in the EU.
Most of the pro-law argument takes place on the websites of the ruling Fidesz Party.
Meanwhile, uncertainty has beset the Hungarian media landscape: The left-liberal daily newspaper "Népszabadság" or the news portal Index.hu are frequently pointing to blog sites, apart from their own reporting, which don't mince words whether for or against the law.
A blogger of the site Antagon writes that many journalists who have been silent about government scandals even before the law came into effect, "are now even more so driven towards self-censorship."
Other bloggers support digital activism: Polblog calls for a "blackout4hungary"-day, an initiative to black out websites in protest of the new law.
Journalist Attila Mong held a minute's silence while on air on the public radio station Kossuth. He has since been suspended until further notice.
Mong is not silent anymore, using Twitter to rail against the media law. And he plans to attend the demonstration today.
"I hope a lot of people will attend, and I think the situation is such that a lot will," Mong said.
Kornélia Magyar has a radio program "Jazz Café" on a private channel where the media law is not a topic but she is also director of her own think-tank, the Magyar Progresszív Institute, which analyses the Hungarian political landscape.
In this role she said: "I do not agree with the criticism that there is dictatorship in Hungary, although the new law is alarming. It was highly needed that not just the Hungarian, but the foreign press protested. As a result, now it seems that there is a governmental intention to back out and modify the disputed law."
FOLLOW THIS TOPIC