Pope decries attacks against religious minorities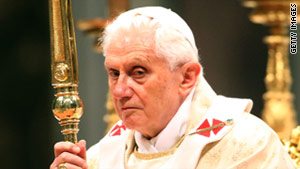 Pope Benedict XVI voiced concerns about the recent attacks on Christians in Egypt during his "State of the World" address.
STORY HIGHLIGHTS
Pope addresses Vatican diplomatic corps
He voices his concern about attacks against Christians in the Middle East
The pope also criticizes the killing of a Pakstini governor
Vatican City (CNN) -- In his annual "State of the World" address to the Vatican diplomatic corps, Pope Benedict XVI spoke Monday about religious intolerance and discrimination toward Christian minorities around the world.
The pope voiced concern about the recent attacks against Christians in the Middle East and urged the region's leaders to take stronger safeguard measures.
''Looking to the east, the attacks which brought death, grief and dismay among the Christians of Iraq, even to the point of inducing them to leave the land where their families have lived for centuries, has troubled us deeply. To the authorities of that country and to the Muslim religious leaders, I renew my heartfelt appeal that their Christian fellow-citizens be able to live in security, continuing to contribute to the society in which they are fully members."
The pope repeated his call for religious tolerance in Egypt. He said an attack on Christians as they prayed in church was another example of the need for governments to protect their religious minorities.
The pope also condemned the recent assassination of the governor of Pakistan's Punjab province and asked Pakistan to repeal its blasphemy laws, saying that they are often used as an excuse for religious attacks on Christians. The Pakistani governor, Salman Taseer, had spoken in opposition to the blasphemy laws.
"I once more encourage the leaders of that country to take the necessary steps to abrogate that law, all the more so because it is clear that it serves as a pretext for acts of injustice and violence against religious minorities," the pope said.
While he praised the European Union's efforts to protect Christian minorities in the Middle East, the pope also criticized its position toward Christian symbols in Europe and the lack of religious teachings in its schools as a form of religious intolerance.
"Another sign of the marginalization of religion, and of Christianity in particular, is the banning of religious feasts and symbols from civic life under the guise of respect for the members of other religions or those who are not believers," the pope said, referring to the European Union Court decision in 2009 to ban the display of crucifixes in public schools in Italy. The Vatican strongly opposed the court's decision and Italy is appealing it.
The Vatican has diplomatic relationship with 176 countries around the world.
FOLLOW THIS TOPIC