Former UK lawmaker gets 18 months in expenses scandal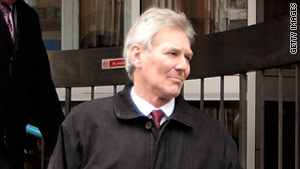 David Chaytor, a former Labour Party lawmaker, is being jailed for 18 months for his role in the expenses scandal.
STORY HIGHLIGHTS
Chaytor served in the House of Commons
The scandal emerged in 2009
Other politicians face separate trials
London, England (CNN) -- A former British parliament member is being jailed for 18 months in connection with the so-called expenses scandal, a court official in the United Kingdom said.
David Chaytor, a former Labour Party lawmaker in the House of Commons, is the first person to be imprisoned in connection with the scandal.
He is being jailed for false accounting and will be taken to Wandsworth Prison immediately, Lindsay Kirton, a Southwark Crown Court spokesman, told CNN on Friday.
This comes after Chaytor and three other British parliamentarians were charged in February with submitting false expense claims totaling more than $93,000 over the past six years, Britain's Crown Prosecution Service announced.
Chaytor, who was a member of Parliament from Bury, north of Manchester, was charged with three counts of false accounting. He received two 12-month and one 18-month sentences. They will run concurrently.
In 2006, Chaytor used false invoices to claim 1,950 pounds ($3,060) for Information Technology services. Between 2005 and 2006, he claimed 12,925 pounds ($20,265) for renting a property in London that he in fact owned. Between 2007 and 2008 he claimed 5,425 pounds ($8,500) for renting a property in Lancashire owned by his mother.
The other three politicians charged in the scandal -- Paul White, also known as Lord Hanningfield; Elliot Morley; and Jim Devine -- will face separate trials. They are no longer serving in parliament.
White was from the Conservative Party; Morley and Devine were from Labour Party.
The scandal first emerged in the spring of 2009, when The Daily Telegraph newspaper published the expense claims. Heavily redacted versions of the claims were scheduled to be made public in June, but the Telegraph obtained them weeks early and printed them in full.
The claims caused widespread public outrage because some were deemed excessive or were for items that seemingly had no connection to the lawmakers' duties.
The Telegraph detailed thousands of dollars worth of interest on mortgages that had already been paid or that didn't exist, money spent to clean a moat on a country estate, and more than $1,000 spent on a small house for ducks.
Some lawmakers claimed the maximum monthly allowance for food, one claimed for dog food and one claimed for Christmas decorations. While the scandal snared lawmakers from all major parties in Parliament, it tarnished the reputations of several rising stars in the Labour Party.
Many lawmakers defended their claims as being within the rules. But even where that was the case, the public criticized lawmakers for greed and for taking advantage.
CNN's Laura Perez Maestro contributed to this report
FOLLOW THIS TOPIC