Tourists in Rome face new tax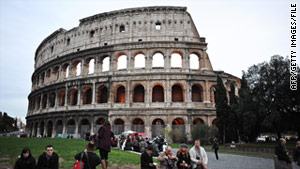 Rome gets about 30 million tourists per year.
STORY HIGHLIGHTS
The new tax began January 1
It charges an extra fee at hotels and tourist attractions
Rome hopes it will help protect its cultural heritage
Hotels fear it could hurt their business
Rome, Italy (CNN) -- A new tax on tourists to the Eternal City is causing controversy, with hotels expressing fears it could hurt their business and scare tourists away.
As of January 1, nonresidents of Rome must pay the extra charge when staying at a hotel or visiting any tourist site, such as a museum, that charges admission.
Rome Mayor Gianni Alemanno introduced the tax law last year after the Italian government of Silvio Berlusconi cut funding to Italian cities, including Rome, as part of austerity measures.
The new tax will cost 3 euros ($4) per person per night for four- and five-star hotels and 2 euros ($2.70) for lower categories. Small children are exempt.
The tax will also see an extra 1 euro ($1.35) charged at the city's museums and other tourist attractions.
The new law applies not only to foreign tourists, but also to Italian tourists and business travelers who are not Rome residents.
Rome had a similar tourist tax law in the past but it abolished it 20 years ago.
The city of Rome says the tax will generate around 200,000 euros (nearly $268,000) a day, for a rough total of 80 million euros ($107.2 million) a year. It has said it hopes to invest the money in improving its cultural heritage and other city infrastructure without taxing its citizens.
Rome gets about 30 million tourists per year.
Claudia Basilli, a booker at Hotel Giulio Cesare, a four-star hotel in central Rome, said he is not in favor of the new measure.
"We and other hotels we've spoken to don't like it at all," Basilli told CNN. "It asks us to charge something we don't want to charge and impose it. And especially because the way we have to do it is out of the Middle Ages -- only cash -- and separate from the hotel billing."
He pointed out a family of four staying at his hotel must pay an extra 12 euros a night with the new tax, a cost that can start to add up after a few nights.
"The law penalizes us, the hotels, and it might hurt us during the current low season," Basilli said. "But I think eventually it will become an accepted fact. I hope it doesn't scare tourists from coming."