Floodwaters return to haunt millions in Pakistan
STORY HIGHLIGHTS
Monsoon rains in southeastern Pakistan have submerged more than 4.5 million acres
At least 5.5 million people have so far been affected, with more than 200 dead
But some villages that survived last year's flooding have been devastated this time
Many victims complain they have not seen any help from the government
Sindh province, Pakistan (CNN) -- I drive along a road surrounded by miles of flooded land that looks peaceful and untouched until you realize entire villages used to exist there.
The recent monsoon rains in Sindh province, in southeastern Pakistan, have submerged more than 4.5 million acres of farming land, damaging an estimated 80% of cash crops.
At least 5.5 million people have so far been affected, with more than 200 dead.
The deluge has forced hundreds of people to move onto the roads, the only dry land for miles around.
Heavy rains, floods kill 233 in Pakistan
One family huddles together by a drainage ditch with all their worldly possessions stacked next to them. Cattle also straddle the road as there is nowhere else to go.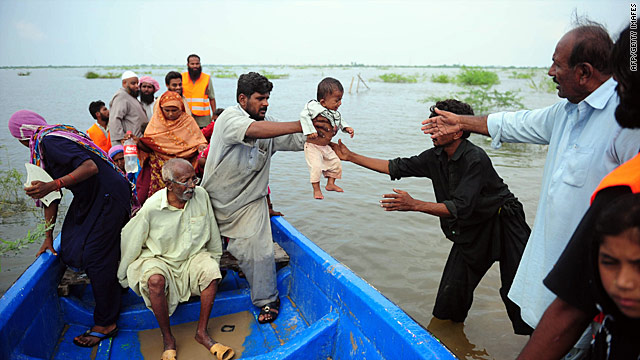 Gallery: Pakistan floods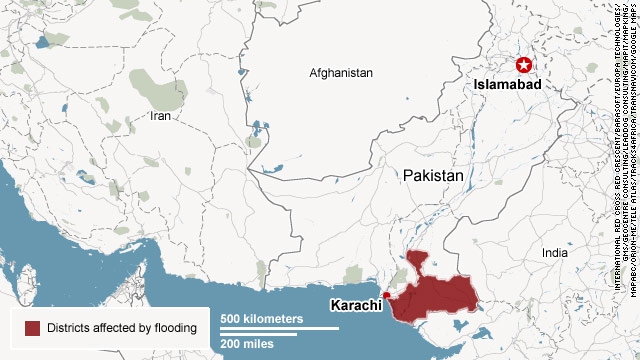 Map: Pakistani floods
The rains seem to have stopped but it is unclear how long it will take for the waters to drain away. What we do know is that whatever lies beneath the murky floodwater is nothing like the soil that sustained life before.
Then there's the smell. It seems to catch in your nose and in the back of your throat. It's perhaps a dire portent of the disease and decay to come.
But what is remarkable is that this is on a much smaller scale than last year, when a fifth of the country was submerged by water, according to the National Disaster Management Authority.
More than 1,500 people died and an estimated 20 million lives were disrupted, the Pakistani government said.
That tells you two things: That life was already very hard here before the rains came; and that people will simply get angrier than ever unless they see help soon.
The village of Shabek Luld bears witness to the damage inflicted by the floodwaters when the rains started in August. The tide marks reach the top of the walls of the village mosque, illustrating how high the waters had risen, while most of the other buildings in the area simply collapsed.
Despite the devastation, the villagers have simply got on with the task of rebuilding their homes. But they claim they have not seen a single government official since the rains began.
With much of the surrounding area still under water, they ask the same question: "With our crops submerged, how will we eat?"
"Nobody's come to our village," says one villager. "We're starving to death, we've been catching diseases. No one's come to treat us."
Another villager tells CNN: "All my crops are finished. We'll die of hunger. My kids don't have a home and are living in a school nearby."
In last year's floods their village was largely spared. They could never have imagined the same rains could come again and take everything.
FOLLOW THIS TOPIC