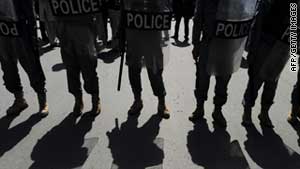 Afghan policemen keep watch during a demonstration in Kabul on August 23.
STORY HIGHLIGHTS
NEW: Pentagon officials say they are taking the accusations seriously
The report documents abuse allegations against new local Afghan police forces
Human Rights Watch: The initiative is a "high-risk strategy" without enough oversight
NATO says parts of the report are dated or incorrect, but it contains possible solutions
(CNN) -- A push to build local police forces in Afghanistan has been "plagued by failures of vetting and oversight," according to a report released Monday.
The report, released by Human Rights Watch, says the U.S.-backed initiative to create the Afghan Local Police (ALP) "is a high-risk strategy to achieve short-term goals in which local groups are again being armed without adequate oversight or accountability."
Serious abuse allegations against some members of the new police forces -- including accusations of killings, sexual assault, illegal raids and beatings -- have emerged in several locations, the rights organization said.
And interviews with Afghan residents noted that fears that armed groups linked to U.S. forces could act without being punished were a "common perception," Human Rights Watch said.
"Many Afghans interviewed by Human Rights Watch fear that the ALP could be a destabilizing force if it strengthens local strongmen who act with impunity; our research suggests that this is already happening in some areas," the report says.
U.S. military officials said they were taking the accusations of human rights abuses seriously.
"They're combing through it over there in Kabul right now to get a better sense of the specifics of these allegations," said Capt. John Kirby, spokesman for Joint Chiefs of Staff Chairman Adm. Mike Mullen.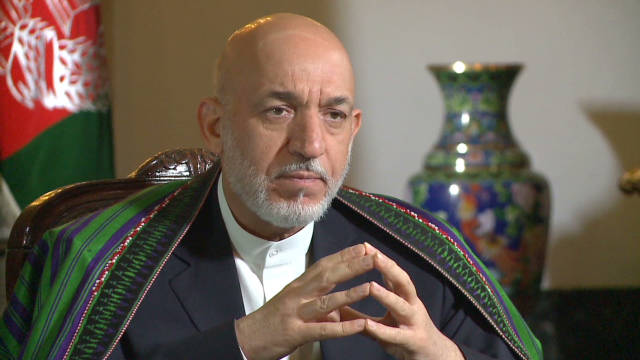 Karzai: 'Some Taliban want to help'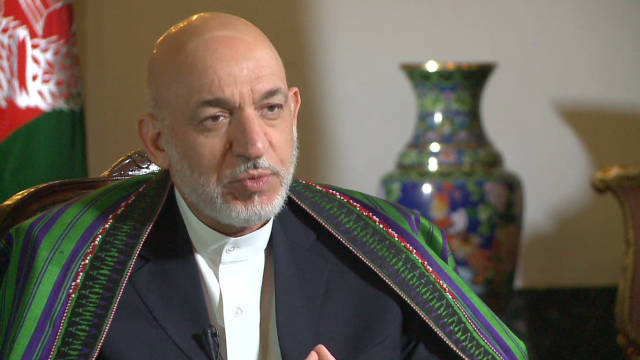 Karzai: 'By 2014 U.S. forces will leave'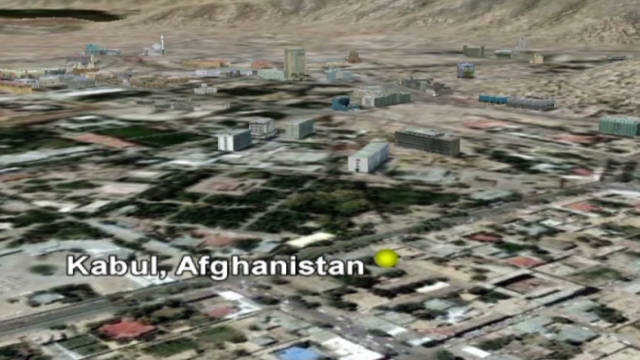 Militants fire on U.S. Embassy in Kabul
Gen. John R. Allen, commander of coalition and U.S. forces in Afghanistan, "has been engaging in a very strong way with the Afghan government to make our concerns known about looking at these allegations, and to take appropriate steps where wrongdoing is found, to redress them," Pentagon spokesman George Little said.
In statements posted on its Twitter account, the media office for NATO's International Security Assistance Force said the report "will be closely evaluated" and "potentially has (a) way ahead in refining/improving areas." But ISAF's press office also said parts of the report are dated or incorrect.
The local police program has earned praise from U.S. officials in the past.
Now-retired Army Gen. David H. Petraeus told the Senate Armed Services Committee in March that the initiative was "arguably the most critical element in our effort to help Afghanistan develop the capability to secure itself."
After returning from a trip to Afghanistan late last month, Sen. Jeff Merkley, D-Oregon, described his visit with U.S. troops training local police.
"I visited a village close to the Pakistani border where U.S. troops live among the villagers and train the ALP units in the area," Merkley said in a written statement. "The depth of trust our soldiers have established in that village make it a model the U.S. hopes to apply more broadly. If successful, this program could be an important piece of the security puzzle."
Kirby said Monday that the Human Rights Watch report could help efforts going forward.
"I think it serves us all in whatever capacity we're doing over there to try to get better at what we're doing and to try to improve the partnership with the Afghan government," he said. "So to the degree to which this report can shed light on improvements we can make together with the Afghans, we appreciated that visibility, and we'll work to that end."
CNN's Larry Shaughnessy contributed to this report.
FOLLOW THIS TOPIC