Where in the world ... ?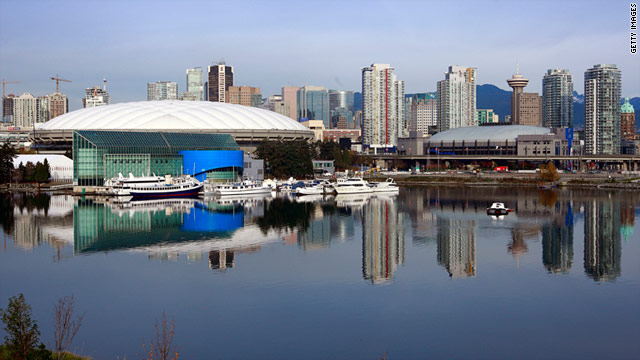 STORY HIGHLIGHTS
Do you know where this photo was taken?

CNN will post a new photo each Monday morning and reveal the answer later that day

The photo might be related to a recent story -- or it could just be something unusual we found
(CNN) -- [Updated 2:30 p.m. ET, Monday, September 5] Downtown buildings in Vancouver, British Columbia, can be seen in this photo from the south side of the False Creek inlet.
The Canadian city hosted the 2010 Winter Olympics and was recently labeled the "most livable city in the world" by the Economist Intelligence Unit.
Last week, a human foot was found near a False Creek marina, police said. It was the 11th time in four years that a foot has been found on a Pacific Northwest shoreline. Only one has been identified. The rest are a mystery.
"I don't know if you can look at this as just a coincidence," said Mark Mendelson, a Toronto forensics consultant and former police detective, on the TV program "Canada AM." "Why is it only happening on the west coast near Vancouver? ... Why are we only getting feet? Why are they in running shoes? ... Something is very, very strange here."
With regards to our photo challenge, "akelley67" was the first to correctly answer Vancouver. Bonus points go to "Frankeeee" for pointing out that it's an old photo "because the roof of that stadium (BC Place) has now been replaced with a retractable roof." Click here to check out the new look.
[Original post] Do you know where this photo was taken?
If you think you know the answer -- or if you just want to take a wild guess -- post it in the comments area below. Later in the day, we'll reveal where the photo was taken and give credit to those who figured it out first. (The more detail, the better!)
Each Monday morning, we'll post a new photo and challenge you to tell us its origin. The photo might be related to a prominent news story or theme -- or it might just be something that caught our eye.
Good luck!
Check out past "Where in the World ...?"
CNN's Brad Lendon contributed to this report.