Where in the world ... ?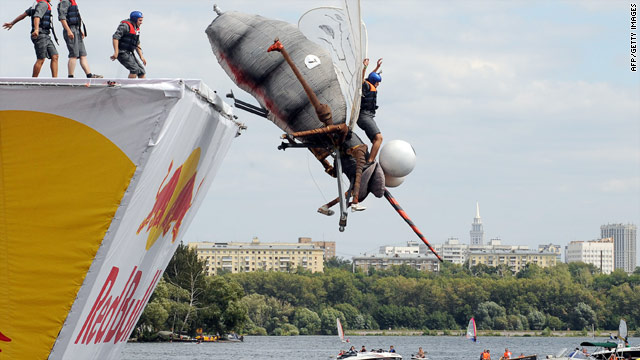 STORY HIGHLIGHTS
Do you know where this photo was taken?

CNN will post a new photo each Monday morning and reveal the answer later that day

The photo might be related to a recent story -- or it could just be something unusual we found
(CNN) -- [Updated 3 p.m. ET Monday, August 15] It's a giant mosquito in Moscow!
The Russian capital hosted a Red Bull "Flugtag" event last week. In Flugtag, which means "flying day" in German, everyday people pilot homemade gliders off a 30-foot deck and into water -- in this case, the Moskva River. The contestants are judged not only on their distance, but their creativity and showmanship. (See more photos of the Moscow event here.)
The first Flugtag took place in Vienna, Austria, in 1992, according to a Red Bull website. Since then, dozens of Flugtags have taken place across the world. The next American Flugtag is scheduled for October 8 in Tampa, Florida.
This might have been too easy a photo challenge this week. Our first 15 comments were all right on the money. Getting in first was "bradanderson," followed by "usgiorgi" and "Meyers9393." We'll try to get back to something tougher next week.
[Original post] Do you know where this photo was taken?
If you think you know the answer -- or if you just want to take a wild guess -- post it in the comments area below. Later in the day, we'll reveal where the photo was taken and give credit to those who figured it out first. (The more detail, the better!)
Each Monday morning, we'll post a new photo and challenge you to tell us its origin. The photo might be related to a prominent news story or theme -- or it might just be something that caught our eye.
Good luck!