Where in the world ... ?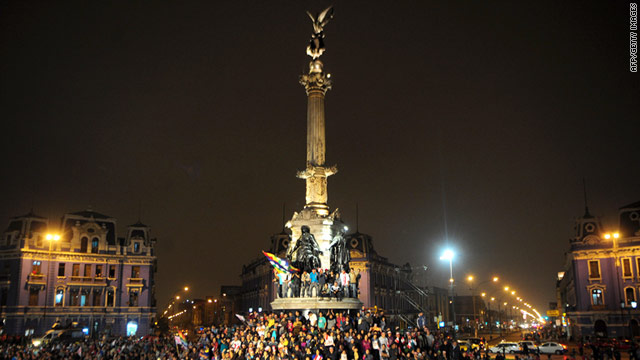 STORY HIGHLIGHTS
Do you know where this photo was taken?

CNN will post a new photo each Monday morning and reveal the answer later that day

The photo might be related to a recent story -- or it could just be something unusual we found
(CNN) -- [Updated 3:30 p.m. ET Monday, August 1] Supporters of Ollanta Humala celebrate exit poll results at the Plaza Dos de Mayo, or May 2nd Square, in Lima, Peru, last month.
Humala was sworn in as Peru's new president Thursday, succeeding Alan Garcia. In his first address, Humala promised reforms and services to the poor. He also said that he wants "to be seen as a defender of human rights and of freedom of the press and expression."
The Plaza Dos de Mayo has been a central Lima landmark for more than a century. It commemorates the Battle of Callao, which took place in 1866 and saw Peruvian forces fight off Spanish ships.
"Eagleperu" was the first CNN.com reader to answer correctly in our photo challenge. This might have been the toughest one in a while. Paris, Rome, Mexico City and Barcelona were popular guesses.
[Original post] Do you know where this photo was taken?
If you think you know the answer -- or if you just want to take a wild guess -- post it in the comments area below. Later in the day, we'll reveal where the photo was taken and give credit to those who figured it out first. (The more detail, the better!)
Each Monday morning, we'll post a new photo and challenge you to tell us its origin. The photo might be related to a prominent news story or theme -- or it might just be something that caught our eye.
Good luck!