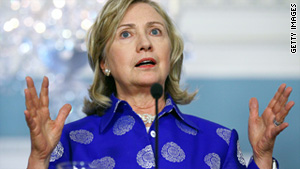 Secretary of State Hillary Clinton said the money supply hold emphasizes that the "partnership depends on cooperation."
STORY HIGHLIGHTS
The United States froze $800 million of assistance to Islamabad
U.S. Secretary of State Hillary Clinton says the decision does not signify a shift in policy
The relationship between Pakistan and the United States is increasingly rocky
An analyst describes the "strength of the weak ally"
Washington (CNN) -- If you're looking for a way to weight the latest tensions between the United States and Pakistan, set the dial to $800 million.
That's the amount of U.S. aid that is frozen as Washington and Islamabad contemplate their dysfunctional alliance.
The United States says Pakistan has kicked out trainers and refused visas for U.S. military personnel and contractors who must accompany new military aid.
The question is whether, once again, the alliance can be nudged back from the brink.
U.S. Secretary of State Hillary Clinton told reporters Monday that the decision to withhold aid does not signify a change in policy, "but it underscores that our partnership depends on cooperation."
She stressed civilian assistance has not been cut and said the United States remains committed to "helping Pakistan build and improve its capabilities."
Pentagon spokesman Col. Dave Lapan similarly denied that the aid impasse means either a permanent rift or a loss of the $800 million.
"This is a 'hold,'" Lapan said Monday during his daily off-camera session with journalists in his Pentagon office.
"It's again directly tied to those decisions by the Pakistani military to curtail training and to not grant visas for some of the U.S. personnel we need to get in. So if those things change, the aid will change as well," he said.
The full list of equipment that the United States provides Pakistan is classified, according to Lapan. But he did say that as trainers were booted out of the country they took small arms and ammunition and other equipment with them. With the ban on visas for additional American personnel, big ticket items like helicopter parts, equipment to locate explosives and radios are also caught in limbo.
In addition to weapons, the $800 million also includes hundreds of millions of dollars to reimburse Pakistan for its military campaigns against extremists, including those threatening U.S. troops in Afghanistan.
It's been a rocky year for U.S.-Pakistan relations. The low points were the U.S. decision to keep secret the raid on Osama bin Laden and the nagging questions over possible prior Pakistani knowledge of where the al Qaeda leader was hiding.
Newly installed Defense Secretary Leon Panetta seemed to be setting out a challenge to Pakistani authorities this weekend when he said that he believes bin Laden's successor, Ayman al-Zawahiri, is somewhere in Pakistan's Federally Administered Tribal Areas, or FATA, bordering Afghanistan.
"We think that Zawahiri is one of those that still resides in the FATA," Panetta told reporters on board his plane to Afghanistan. "And he's one of those that we would like to see the Pakistanis target, along with our capabilities as well."
And just last week, the top U.S. military officer, Joint Chiefs Chairman Adm. Mike Mullen, said he believes the Pakistani government "sanctioned" the murder of a Pakistani journalist who had focused on links between the government and extremists.
Long-time Pakistan watcher Lisa Curtis of the Heritage Foundation said the aid freeze is not unexpected. "I don't think this is insurmountable," Curtis told CNN by telephone Monday. In her opinion, the halt in the $800 million may bend but won't necessarily break relations.
"It looks as if they don't want to eliminate the assistance entirely," Curtis said. "The administration is trying to calibrate its assistance in a way that won't cause irreparable harm to the relationship."
Eric Edelman, a visiting scholar at John Hopkins University, described the relationship between Pakistan and the United States as one in which both countries need each other, but have different views about what's most important.
Part of the "strength of the weak ally" is that they know you need them, Edelman said. "One thing we don't want to do is have Pakistan completely collapse."
Meanwhile, billions of dollars in U.S. civilian assistance to Pakistan continue. But the State Department echoed the Pentagon line on Monday that Pakistan must make changes if it wants to reopen the military aid spigot.
State Department spokeswoman Victoria Nuland said the United States very much wants to cooperate and recognizes mutual interests with Pakistan.
"But in some categories where our trainers have to be in country in order to make the assistance effective, we can't give it in an environment where our trainers are not allowed to be there," Nuland said. "And in other circumstances it doesn't make sense to move forward with it unless and until our dialogue gets to a better level."
FOLLOW THIS TOPIC