Bangkok (CNN) -- A roaring cheer went up the moment Yingluck Shinawatra walked out the front door of her Pheu Thai party's election headquarters.
In Thailand's fourth election in seven years, voters made a historic decision on July 3: for the very first time the country will be headed by a female prime minister.
Yingluck's party took a slim majority of the parliamentary seats needed to make her head of the government.
Yingluck Shinawatra set to be Thailand's first female premier
"The first thing I want to do is help people on their economic situation," Yingluck said, refusing to declare victory until the official count was over.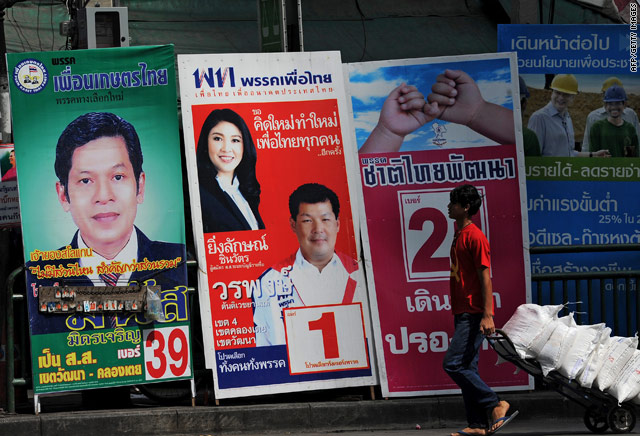 Thai elections: Who's who?

Fierce rivalry in Thailand's elections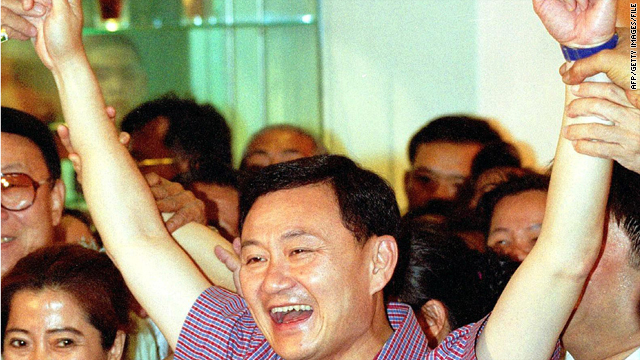 Gallery: Thailand timeline 2001-2011
Her main and biggest rival, incumbent Abhisit Vejjajiva, had conceded defeat minutes before she spoke.
Yingluck's headquarters was teeming with journalists on the inside, with most of her supporters celebrating on the outside.
Yingluck is the younger sister of one of Thailand's most polarizing political figures -- former Prime Minister Thaksin Shinawatra -- who was ousted in a 2006 military coup.
Two years later he fled the country after being convicted on conflict of interest charges -- charges he still denies.
Thailand politics timeline 2001-2011
Flags with his image waved in the sticky night air at the car port entrance outside the Pheu Thai headquarters. A child wearing a shirt with his sister Yingluck's picture on it walked right past trying to get closer to the celebrations.
Yingluck's critics worry she will simply do her brother's bidding, something she has denied.
But before she even gave her victory speech, her brother had shared his thoughts from exile in Dubai.
"Well, I would tell them that I really want to go back, but I will wait for the right moment and the right situation," Thaksin told the assembled cameras.
The Pheu Thai party is still fiercely behind Thaksin and want him back, though Yingluk for her part has been slightly more circumspect on the issue.
"I can't do anything special for my brother... we will follow the rule of law," she told CNN a few days earlier.
But the average voter in Thailand isn't so caught up with all of this. The main thing they want is for their leaders to shrink the gap between what they earn and the sky-rocketing cost of living.
"Free education is good, care for elderly is also good. In fact every party's policies are all good, the question is if they would ever implement them," Banorn Achriyawatkul, a food vendor, said as she worked outside a polling station selling snacks that smelled heavenly.
She has four children and has suffered being laid off as a secretary. She is now working as a food vendor in the streets and trying to make ends meet.
Despite the animosity between the two major parties, they have made very similar promises to the people: an overall better economy, free education, and a major increase in the minimum wage -- exactly what many voters want to hear.
But analysts say the extravagant programs will cost more than Thailand can afford.
Supong Limtanakool, of Bangkok University's Center for Strategic Studies, said both parties made big promises they just can't keep.
"It will be something that we have to spend somewhere between an additional 1.5 trillion baht to 7.5 trillion baht [US$49 billion to US$2.46 trillion] with all the extravagant programs, which is five-times the national budget.
"I mean we'll be broke in one year."
FOLLOW THIS TOPIC