STORY HIGHLIGHTS
United States, China and ASEAN will be watching the outcome closely
Further unrest in Thailand could affect balance of power for region
Bower: "Unhappy scenario" is if a party does not accept the result or process
Thai democracy stands at a crossroads, says Pongsudhirak, another observer
(CNN) -- Thailand's first elections since last year's violent protests place it at the crossroads between national reconciliation and further destabilization, a scenario analysts believe could have serious implications beyond its borders.
Squaring off against incumbent Prime Minister Abhisit Vejjajiva of the Democratic Party is Pheu Thai party leader Yingluck Shinawatra, whose party is leading by a narrow margin in pre-election polls. Yingluck is also the sister of ousted Prime Minister Thaksin Shinawatra, who faces a warrant for his arrest on terrorism charges related to last year's protests.
Thaksin now lives in exile. His lawyer said the charge "violates logic, law and any claim of hopes for reconciliation."
Tensions between the two political factions, which reflect deep divisions within Thai society, erupted last year, with protests against Abhisit's government leading to a military crackdown, in which more than 90 people were killed and hundreds injured.
After the riots, the Thai government pledged to work toward a process of national reconciliation to heal these class and political divisions.
But just who wins Sunday's vote is far less important geopolitically than whether or not the results are accepted, according to Ernest Bower, Southeast Asia program director for the Center for Strategic & International Studies.
The main regional players -- the United States, China and Thailand's neighbors from the Association of Southeast Asian Nations (ASEAN) -- will be watching the outcome closely, knowing that further unrest in what has historically been one of the most stable countries in Southeast Asia could affect the balance of power.

Thailand goes to the polls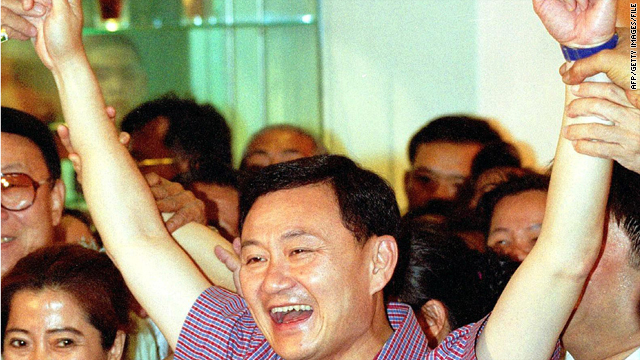 Gallery: Thailand timeline 2001-2011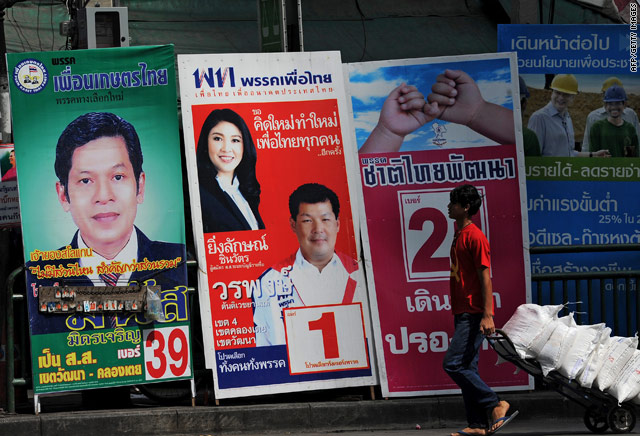 Thai elections: Who's who?
"The best outcome for the U.S. and the region as a whole is that there is an election, that the Thai people agree that it was run fairly and that all parties accept the results," Bower told CNN.
The fear, or "unhappy scenario," as Bower put it, is if a party wins, and the other side does not accept the result, either by rejecting the election results or the process itself.
Just days before the election, Army chief Prayuth Chan-ocha dismissed what he called "rumors" that the military would stage a coup in the event of a Pheu Thai win.
"Thai democracy is healthy, but its enemies are many," said Michael Montesano, a researcher at the Institute of Southeast Asian Studies in Singapore.
"There is no question that if Thailand is able to let its democracy prevail -- to become a country that is ruled by its elected parliament -- that it will have an important effect in the long term."
Read the top 10 strange moments of election
One major effect will be on its relationship with the United States. As Washington's oldest treaty ally in EAST Asia -- dating back to 1833 when it was known as Siam -- Thailand remains a key security ally of the United States, its third-largest single country trading partner after China and Japan.
Thailand is also one of the five founding members of ASEAN, the economic and political body representing 10 nations -- and 600 million people -- in Southeast Asia.
Thai democracy is healthy, but its enemies are many
--Michael Montesano, research fellow, Institute of Southeast Asian Studies in Singapore
With China's growing economic power and maritime assertiveness in Southeast Asia, a bitterly divided Thailand comes at an "extremely bad time for the region," Bower said. Additionally, the deadly Thai-Cambodia border dispute around an ancient temple has further undermined ASEAN cohesion, he added.
"That in turn undermines a strong ASEAN able to send messages to China, most notably now the South China Sea."
In recent weeks, there have been reported incidents between Chinese patrol boats and Vietnamese and Philippine survey ships, raising tensions in disputed waters where China has estimated untapped oil that could be second only to Saudi Arabia's.
From the U.S. perspective, ASEAN provides a regional architecture that would make China "play by the rules," Bower explained. Such a plan is contingent "on a strong and compressive ASEAN," he added.
"With an unstable Thailand, this is undermined."
China, on the other hand, prefers not to negotiate with ASEAN and prefers bilateral negotiations, Bower said. "From a very Machiavellian point of view, China has not indicated that it supports a strong Thailand. But Chinese policy says they do support a strong ASEAN economically."
Another observer, Thitinan Pongsudhirak, director of the Institute of Security and International Studies at Chulalongkorn University in Bangkok, said that Thai democracy stands at a crossroads.
"If the Thai elections on July 3 lead to genuine democratic rule, and that becomes the basis of government administration in Thailand, this would reinforce the trend that Indonesia has set toward democratization."
On the other hand, he added, "if the election results are usurped, and Thailand ends up with a kind of managed democracy, this would fall into the hand of China."
Read a Thai political blogger's opinion on the need to vote
Montesano disagreed that any Thai election outcome could pose a threat to ASEAN. "ASEAN is so divided and so weak diplomatically that I don't think China has any particular fear of ASEAN."
"The real stakes here are whether Thailand can finally begin to get its politics right, so that it's not weak, so that it's not a less and less attractive destination for investment."
See a timeline of Thailand for the last 10 years
Lief Eskesen, chief economist for India & ASEAN at HSBC, said the elections are not anticipated to have an impact on the ASEAN economies.
"The interesting thing about Thailand is that there have been these political tensions issues for a while. Despite that, it hasn't really deterred investors from coming in," he said, crediting sound economic stewardship, a good business environment and less red tape than in Indonesia and the Philippines -- fellow ASEAN democracies.
"The greatest risk to growth related to the elections is for Thailand itself," he said.
FOLLOW THIS TOPIC