McCain warns Myanmar it risks Arab-style uprising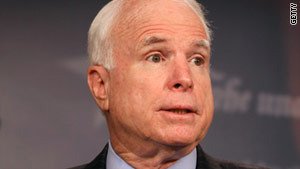 John McCain (file photo) wrapped up a two day "assessment" trip in Myanmar on Friday.
STORY HIGHLIGHTS
NEW: The U.S. should welcome dialogue, but only with agenda for reform, McCain says
"The winds of change are now blowing," U.S. Senator John McCain says
McCain finishes a two-day "assessment" trip
He met with government officials and pro-democracy leader Aung San Suu Kyi
(CNN) -- U.S. Sen. John McCain warned Myanmar's new military-backed government to make democratic reforms or possibly face the type of revolution that has swept through Arab nations.
"The winds of change are now blowing, and they will not be confined to the Arab world," McCain told reporters in the former capital, Rangoon.
"Governments that shun evolutionary reforms now will eventually face revolutionary change later. This choice may be deferred. It may be delayed. But it cannot be denied."
McCain said in a telephone interview on CNN International that he was not predicting such an uprising in the country, but rather making clear that political change is sweeping the globe.
McCain wrapped up a two day "assessment" trip in Myanmar in which he met with senior leaders in the new government.
He said it was clear "the new government wants a better relationship with the United States" but called for "concrete actions" before the U.S. could consider lifting sanctions.
Such actions would include access to the country's prisons by the Red Cross, the unconditional release of more than 2,000 political prisoners, and guarantees of safety for pro-democracy leader Aung San Suu Kyi as she travels around the country for an upcoming political tour, McCain said during the telephone interview.
"U.S. policy should be that we're glad to have a dialogue, but we need an agenda for reform," he said.
McCain, who described Nobel Prize-winner Suu Kyi as "a personal hero of mine for decades," met with her Thursday and promised U.S. support for her efforts to bring democracy.
Suu Kyi spent most of the past 20 years under house arrest.
McCain said he had a long discussion with the activist during their visit, including the question of whether the United States should ease sanctions against Myanmar.
"I think that her position was very clear ... that progress could be made but only in return for further reforms that need to be made by the government," McCain told CNN.
During his visit, the senator also met with opposition and ethnic minority leaders.
McCain, who had spent six years as a prisoner of war during the Vietnam War, also met with recently-released political prisoners, some held for 20 years.
The longtime critic of Myanmar's military regime had been denied visas for the past 15 years and termed the granting of his recent visa "one illustration of change."
McCain arrived in Singapore on Friday for an annual intergovernmental conference on Asian security after his visit.
FOLLOW THIS TOPIC