STORY HIGHLIGHTS
Millions in China have been affected by the worst drought to hit China since 1961
Farmers and environmentalists say the Three Gorges Dam has exacerbated the drought
A government official denied that the drought was aggravated by the dam
Dongting Lake, China (CNN) -- Hong Yulan has fished the shallow waters of Dongting Lake for nearly 30 years, but this summer she is doing something she never fathomed possible: walking across the bottom of her lake.
"I've never seen the bottom of Dongting before," Hong said as she anxiously wrung her hands. "It is unreal."
Wearing stiff rubber boots encrusted with last season's mud, Hong traipses across the dried up lakebed in central China's Hunan Province, navigating the deeply cracked earth. The ground is littered with overturned boats and dead mussel and clam shells, which once called this now-dry basin home.
Young grasslands have recently sprung up in the very same place that just last year was teeming with fish, tortoises and -- most importantly -- water as far as the eye could see. Dongting Lake usually serves as the main flood-basin of the Yangtze River.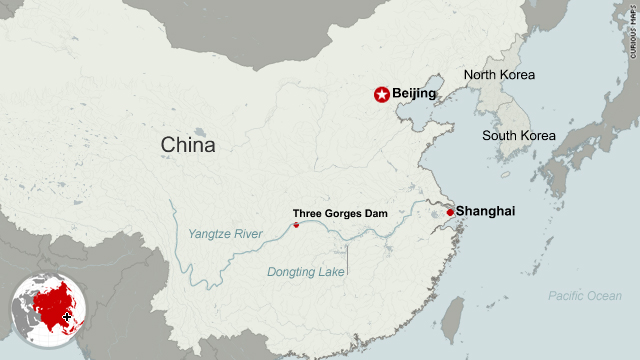 Map: Three Gorges Dam
"Usually at this time we are fishing or getting ready to fish, but this year we can't even put out a boat to fish," Hong told CNN. "Without fishing, I have no income."
Hong is one of millions in China affected by the worst drought to hit China since 1961. As of the end of May, Dongting Lake had already shrunk to less than 45 percent of its usual surface area, according to state-run media. Local conservationists estimate more than one thousand hectares of wetlands located on the east side of Dongting Lake have dried up entirely.
Situated downstream from the dam, Dongting Lake is the second largest fresh water lake in China. But record low rainfall this year has caused sharp drops in water levels in the middle and lower reaches of the Yangtze River, causing the drought to spread throughout Hunan, Hubei, Jiangxi, Anhui, Jiangsu and Zhejiang provinces. The region has suffered from 40 to 60 percent less rainfall than usual. Millions lack adequate drinking water.
However, for Hong, the dry spell is not the only culprit to blame for her fish-less lake. Along with other farmers and environmentalists, she points to the Three Gorges Dam, the world's largest hydro-power project as a resource nightmare that has exacerbated the drought.
"The Three Gorges Dam has definitely influenced things here," she told CNN. "The impact is clear."
Farmer He Shishun agrees. Usually the 49-year-old slowly works his modest plot of land with his aging water buffalo to reap two rice harvests per year along with a variety of fruits and vegetables. This year, due to the water shortage, he will ration his resources and plant just enough for one rice harvest. Unable to grow fresh produce at home, He has been forced to purchase fresh produce for his family at a local market, for high prices that stretch his meager income.
"The Three Gorges Dam helped with water irrigation when it first opened but more recently it has not been helpful. The water is scarce and it is too dry here," he said.
But He says he is better off than most farmers as his land shares its western edge with Dongting Lake. When the water returns, He says he will be one of the geographically lucky ones as the water will replenish his farm first.
"I keep on doing what I can. I grow what I can. But most people have left the farms to look for other jobs," farmer He said as he coaxed his water buffalo forward.
In a rare admission, China's central government has ordered the dam to release more water after conceding that the project had caused "urgent" environmental, migration and energy problems.
Officials are also concerned the declining water levels at the dam's reservoir could cause power shortages and affect shipping lanes. The Chinese Office of State Flood Control and Drought Relief has dispatched technical support teams and relief equipment like water pumps and diesel-fueled power generators to ease the pain of the drought.
However, Li Ganjie, Vice Minister of Environmental Protection, denied that the drought was aggravated by the river's Three Gorges Dam. He did acknowledge the government will pay greater attention to the environmental impact of large scale projects like the dam.
"In the future, we will be listening to a variety of viewpoints in the assessment and approval process of controversial projects," Li said in a news conference on Friday in Beijing.
Back at Dongting Lake, fisherwoman Hong and farmer He have checked the weather forecast which predicts rainfall in the coming weeks. But ironically heavy rain may worsen their situation before improving it. Officials say the hardened cracked earth may be unable to absorb heavy rains quickly, potentially causing floods during the summer rainy season.
Until then, Hong will tend to a small temporary fishing farm the government has allotted to her family, while farmer He conserves the little water that remains - as they both hope for rain.
FOLLOW THIS TOPIC