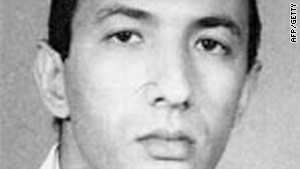 Saif al Adel is said to have been appointed the interim head of al Qaeda.
STORY HIGHLIGHTS
Saif al Adel has been appointed the interim leader of al Qaeda, says Noman Benotman
Adel is a former Egyptian army lieutenant who has provided intelligence training for al Qaeda
(CNN) -- A former Egyptian army lieutenant and long-time Islamist Saif al Adel has been appointed the interim leader of al Qaeda, according to former jihadist Noman Benotman.
The move suggests indecisiveness and a possible power struggle within the organization says Benotman, now a senior analyst at the Quilliam Foundation, a London-based "counter-terrorism" think tank.
The death of Osama bin Laden -- al Qaeda's founder and strategic guiding force -- has left a power vacuum at the top which many security analysts predicted would be filled by bin Laden's deputy Ayman al-Zawahiri.
Al-Zawahiri has played a defining role in al Qaeda for over a decade, so why has Adel been appointed the caretaker leader instead?
Who is Saif al Adel?
A former Egyptian army lieutenant and long-time member of Ayman al-Zawahiri's Egyptian Islamic Jihad (EIJ), Adel is believed to have returned to the tribal areas of Pakistan last year after a period of house arrest in Iran.
Adel has provided military and intelligence training for al Qaeda members as early as 1990 and was a member of al Qaeda's "shura" council.

Al Qaeda appoints caretaker leader
According to a former jihadist, Adel is believed to currently occupy the "chief of staff" position within al Qaeda, managing insurgent paramilitary operations in the Afghanistan-Pakistan border region, with a special remit to manage the group's relations with other jihadist groups and affiliates.
Adel has been involved in militant activities since the late 1980s, according to an interview with him published in spring 2005 in the Arabic-language London-based daily Al-Quds al-Arabi.
He is wanted by the FBI in connection with al Qaeda's 1998 attacks on the U.S. embassies in Nairobi, Kenya and Dar es Salaam, Tanzania, killing 224 people.
Will al-Adel replace bin Laden?
"They (al Qaeda) don't need a military commander as their leader... they need someone who holds a vision, who maintains that vision and makes sure he communicates that vision to the organization," says Benotman, once a leader of the Libyan Islamic Fighting Group (LIFG), a militant organization that used to be aligned with al Qaeda.
Benotman says al Qaeda needs a spiritual figurehead who will guide the group and who has the charisma to appeal to millions of people.
Why hasn't al-Zawahiri been appointed interim head?
"Al-Zawahiri has a negative reputation with other jihadist groups," says Benotman.
It is also possible that some within al Qaeda fear that al-Zawahiri will be the next target of intelligence agencies.
The FBI is offering a $25 million reward for information leading to his capture -- the same as the reward for bin Laden -- reflecting al-Zawahiri's importance to the United States.
Paul Cruickshank, a CNN terrorism analyst, said: "Of all al Qaeda's senior leaders, al-Zawahiri is probably the one in most jeopardy. Western intelligence officers have told us that in recent times bin Laden and al-Zawahiri were probably in relatively close geographic proximity and also in touch to some degree, so all this information may help America track down al-Zawahiri."
So, is there a power struggle within al Qaeda?
Possibly -- the fact that it has taken so long just to announce an interim leader could point to a power struggle of some kind suggests Benotman.
According to Benotman, Adel's appointment was not a decision of the formal shura council of al Qaeda, because it is currently impossible to gather them in one place, but was rather the decision of six to eight leaders of al Qaeda in the Afghanistan-Pakistan border area.
He believes al Qaeda has moved some of its operations to Afghanistan, east of Jalalabad near the Pakistan border because of fears of what intelligence the U.S. has gained from bin Laden's compound.
At the same time, the group's Yemeni wing -- al Qaeda in the Arabian Peninsula -- is trying to position itself for greater power and influence in the aftermath of bin Laden's death, a U.S. official told CNN.
What does this mean for al Qaeda's relationship with the Taliban?
The pact between al Qaeda and the Taliban was based on a personal relationship between Mullah Omar, the militant Islamic group's leader, and bin Laden, says Benotman.
"If Mullah Omar disappears or something happens to him it is going to be very risky for maintaining the relationship," says Benotman.
U.S. drone strikes over Afghanistan and Pakistan have also debilitated al Qaeda's ability to operate believes Benotman.
"Immediately after the death of bin Laden the U.S. increased the number of drone strikes, there has been one attack after another and this has delayed the announcement of bin Laden's successor."
FOLLOW THIS TOPIC