Where in the world ... ?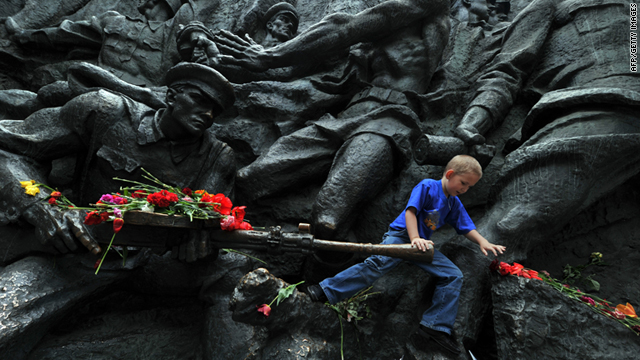 STORY HIGHLIGHTS
Do you know where this photo was taken?
CNN will post a new photo each Monday morning and reveal the answer later that day
The photo might be related to a recent story -- or it could just be something unusual we found
(CNN) -- [Updated 3 p.m. ET, Monday, May 16] The bronze monument above is from Kiev, Ukraine, at the Museum of the Great Patriotic War.
The Great Patriotic War is what Russia and many former Soviet states call the war with Nazi Germany from 1941-1945. (You might know it as World War II but without the Japanese conflict.)
This particular monument is part of a sculptural gallery called Heroes of the Front and Rear. It is not, as some of you guessed, a monument for the "unknown soldier."
The boy in the photo is climbing on the monument May 9, or Victory Day in Russia. May 8 is commonly known as V-E Day, the day Germany surrendered in 1945. But in Moscow time, the surrender came early on May 9.
The Museum of the Great Patriotic War is the largest museum in Ukraine and has more than 300,000 exhibits, according to its website. It is perhaps best known for its Motherland monument, which stands 102 meters (334 feet) high and depicts a woman with a shield and sword in her hands. Check out this website to see some great photos of Motherland and the museum.
Many of you guessed Kiev, but congrats to "Aden0id" for being the first to correctly point out that the photo above came from the Museum of the Great Patriotic War. "Giancarlo18" was a close second.
[Original post] Do you know where this photo was taken?
If you think you know the answer -- or if you just want to take a wild guess -- post it in the comments area below. Later in the day, we'll reveal where the photo was taken and give credit to those who figured it out first. (The more detail, the better!)
Each Monday morning, we'll post a new photo and challenge you to tell us its origin. The photo might be related to a prominent news story or theme -- or it might just be something that caught our eye.
Good luck!