Where in the world ... ?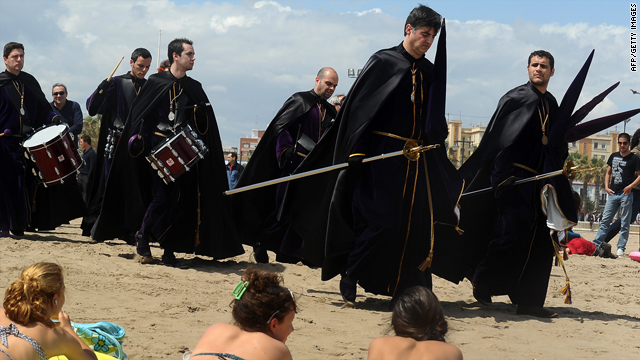 STORY HIGHLIGHTS
Do you know where this photo was taken?
CNN will post a new photo each Monday morning and reveal the answer later that day
The photo might be related to a recent story -- or it could just be something unusual we found
(CNN) -- [Updated 3:30 p.m. ET, Monday, May 9] This photo was taken in Valencia, Spain, last month during Semana Santa (Holy Week) celebrations.
Holy Week, which starts on Palm Sunday and ends with Easter, is observed by Christians worldwide. But it's hard to imagine festivities as colorful as those in Valencia's maritime district.
There, a slow, extravagant procession takes place every year on Good Friday. The procession recounts the story of Christ's death through 28 separate "brotherhoods." Each brotherhood -- made up of local parishioners -- has a unique costume and theme as it symbolizes a specific aspect of the Passion.
Credit goes to "rodolfosiles" for being the first commenter to correctly point out that the photo was taken Spain during Semana Santa. And "wolfpack654" was the first to mention Valencia specifically. Well done.
[Original post] Do you know where this photo was taken?
If you think you know the answer -- or if you just want to take a wild guess -- post it in the comments area below. Later in the day, we'll reveal where the photo was taken and give credit to those who figured it out first. (The more detail, the better!)
Each Monday morning, we'll post a new photo and challenge you to tell us its origin. The photo might be related to a prominent news story or theme -- or it might just be something that caught our eye.
Good luck!