Thailand, Cambodia fail to resolve border dispute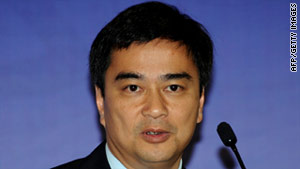 Thai PM Abhisit Vejjajiva speaks on the sidelines of the 18th ASEAN Summit in Jakarta on May 8, 2011.
STORY HIGHLIGHTS
Both countries agree that their foreign ministers will continue negotiations
Clashes between Thailand and Cambodia have erupted over an ancient Hindu temple
Indonesia has been trying to broker a deal between the neighboring nations
Indonesia's president calls on both countries to find a "comprehensive solution"
Jakarta, Indonesia (CNN) -- Leaders from Thailand and Cambodia failed to reach an agreement Sunday in a meeting aimed at mediating a longstanding border conflict over an ancient Hindu temple.
No resolution was reached after Indonesia's president led a meeting between the neighboring nations on the sidelines of the Association of Southeast Asian Nations summit.
However, the leaders of both countries agreed that their foreign ministers would stay another day for more talks facilitated by Indonesia.
Fighting along the turbulent border has raged since last month. Clashes around the Preah Vihear temple prompted displacement of thousands on both sides and caused at least 20 deaths.
Indonesia, which chairs the summit this year, has been trying to mediate talks between Thailand and Cambodia.
Thailand has refused to agree to a proposal that would send Indonesian observers to the disputed territory, saying Cambodia must first withdraw its troops from the area. Cambodia has rejected that demand, insisting that a team of Indonesian observers needs to be sent to the region.
Both issues are important and should be addressed together, Thai Prime Minister Abhisit Vejjajiva told reporters Sunday
"Because, after all, the objective of what we are doing should not be about scoring political points -- thinking that there is some kind of technical victory on one issue and another -- but the ultimate objective must be to achieve lasting peace," he said.
Indonesian President Susilo Bambang Yudhoyono said he hopes both countries "can come up with a more comprehensive solution, that's real and more effective. This is what ASEAN supports and what has been agreed upon by both Thailand and Cambodia."
Such security and territorial disputes overshadowed this year's summit, as the Asian leaders highlighted their efforts to achieve economic integration by 2015 and make the bloc more relevant and accessible to the 500 million people who live in its 10 member countries.
The organization also has made food and energy security top priorities. A recent report by the Asian Development Bank says rising international food prices could push 64.4 millions into poverty.
"We all agreed to conduct regional cooperation in facing the threat of food insufficiency and energy security," Yudhoyono said.
FOLLOW THIS TOPIC