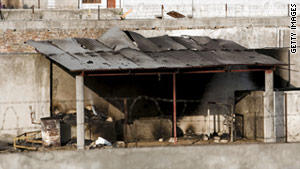 In 2010, U.S. authorities honed in on a compound in Abbottabad, Pakistan, where Osama bin Laden was later found and killed.
STORY HIGHLIGHTS
A small team of U.S. commandos invaded a Pakistani compound early Monday
They killed five people, including Osama bin Laden, U.S. officials say
U.S. forces flew off with Bin Laden's body and buried it at sea
(CNN) -- Below is the most current account of the origins and execution of an early Monday morning raid that resulted in the killing of al Qaeda leader Osama bin Laden and four others. These details are from U.S. officials, unless otherwise noted.
-- Four years ago, U.S. officials uncover the identity of a trusted bin Laden courier -- later identified as a Kuwaiti named Abu Ahmad -- whom they believed may have been living with and protecting the al Qaeda leader. Two years later, investigators identify parts of Pakistan where the courier and his brother lived.
-- In late 2010, U.S. authorities hone in on a housing compound in Abbottabad, which is 30 to 35 miles north of Islamabad, Pakistan's capital.
-- The compound is placed under constant U.S. surveillance, and the CIA gets reports of repeated sightings on a tall man doing "prison yard walks" around the compound yard. They don't definitively identify this man as bin Laden beforehand, but President Barack Obama orders the go-ahead for the raid on April 29 after concluding there's enough evidence suggesting the al Qaeda leader is there.
-- The assault is code-named "Operation Neptune Spear," a U.S. official said Thursday. On Monday, a senior Obama administration official said that "Geronimo" was code for the act of capturing or killing bin Laden, not the man himself.
-- The CIA and U.S. military decide to move in overnight Sunday in part due to good weather, maximum darkness in the area and a worry that potential targets might move to other locations.
-- The raid is focused on a compound with outer walls up to 18 feet tall topped with barbed wire, two security gates and a series of internal walls. The main structure is a three-story building with few windows facing the outside of the compound, and a third-floor terrace with a 7-foot privacy wall.
-- Two families lived in the compound with bin Laden's family. One resided on the main house's first floor, while the other was in a guesthouse.
-- The mission is coordinated by Adm. William McRaven, the head of the Joint Special Operations Command, which oversees covert operations involving Navy SEALs. He does so from a base in Jalalabad, Afghanistan.
-- President Obama follows the mission in "real time" from the White House's Situation Room on Sunday afternoon in Washington. He is joined by members of his national security team and key members of his administration, including Secretary of State Hillary Clinton and Defense Secretary Robert Gates.
-- About two dozen U.S. Special Operations forces, specifically Navy SEALs, fly by helicopter into Abbottobad, Pakistan, early Monday, May 2.
-- The team had orders to "capture or kill" bin Laden, the mastermind of the September 11, 2001, attacks on New York and Washington. CIA Director Leon Panetta told PBS the commandos had "full authority" to kill bin Laden if he did not surrender.
-- One helicopter makes a hard landing, when it apparently comes too close to a wall. It lands inside the western side of the compound, with its tail rotor over the southern wall, a U.S. official with knowledge of the Navy SEALs' debreifings on the raid said Thursday. Photos show the helicopter damaged, but intact. The SEALs in this helicopter get out safely, and go through an inner wall to get to the building where bin Laden was found.
-- A second helicopter lands outside, near the compound's northern wall. The SEALs on that aircraft breach the outer wall to launch their attack.
-- The U.S. commandos encounter a man, later identified as Ahmad, in the guesthouse at the south end of the compound. He fires at the SEALs, who quickly kill him.
-- From this point on, no other forces fire at the U.S. Navy SEALs, according to the U.S. official on Thursday. This contrasts to earlier reports, also citing U.S. officials, which described the operation as a firefight throughout.
-- The SEALs move into the compound's main three-story building, along the complex's northern wall. They shoot and kill the courier's brother on the building's main floor.
-- The U.S. commandos climb up the stairs and encounter a man later determined to be one of bin Laden's sons. The son rushes at the SEALs and is killed.
-- Neither the courier's brother nor bin Laden's son has weapons on them or nearby, a U.S. official says Thursday -- contradicting earlier reports that the U.S. forces had been engaged in a firefight. But the men still posed an imminent threat, the official said.
-- The SEALs climb farther upstairs to the third-floor room where they find bin Laden, his Yemeni wife and several small children. Bin Laden is shot first in the chest, then in the head above his left eye, while moving possibly toward weapons in the room.
-- Bin Laden never held a gun or used a woman as a shield, as U.S. officials once reported, but authorities thought he was enough of a threat to warrant shooting him.
-- U.S. Attorney General Eric Holder said Wednesday that bin Laden made no attempt to surrender.
-- After the shooting, a SEAL lay down beside bin Laden's body to try to determine his height.
-- In addition to the four men who were killed, a still unidentified adult woman is killed in the raid.
-- Besides taking away bin Laden's body, the U.S. commandos take with them materials from the compound. They include audio and video equipment, 10 hard drives, five computers and more than 100 storage devices, such as disks and thumb drives, a senior U.S. official tells CNN. Commandos also recover five cell phones, paper documents and five guns, including AK-47s and pistols. The bodies of all others killed were left behind.
-- A senior Pakistani intelligence official, speaking on condition of anonymity, says bin Laden's wounded wife Amal al-Sadah is in Pakistani custody. An earlier report that has since been refuted suggested wrongly that she was killed. Instead, a U.S. official says, she was shot in the leg when she rushed the commandos.
-- The operation -- from the time the SEALs land at the compound to when they take off -- takes 38 minutes.
-- Pakistan scrambles fighter jets in response to the attack, White House counterterrorism adviser John Brennan says Monday. But they do not arrive until after U.S. forces had left Pakistan.
-- Bin Laden's remains are flown to the aircraft carrier USS Carl Vinson, then in the North Arabian Sea. After DNA tests and further confirmations of his identity, he is buried at sea within 12 hours of his killing "in conformance with Islamic precepts and practices," White House press secretary Jay Carney says Tuesday.
-- President Obama decides not to release photos of the slain terrorist leader, Carney says Wednesday.
-- Videotapes found at bin Laden's compound are being "aggressively analyzed," a U.S. official says Friday.
-- Al Qaeda confirms bin Laden's leader's death Friday in a Web statement and uses that opportunity to taunt and threaten the United States. "Sheikh Osama didn't build an organization that will vanish with his death or fades away with his departure," said the statement, which CNN could not independently authenticate.
-- Obama meets Friday at Fort Campbell, Kentucky, with members of the military team responsible for conducting the raid and promises victory over al Qaeda. "We are ultimately going to defeat al Qaeda," the president told more than 2,300 troops who recently returned from Afghanistan. "We have cut off their head."
-- Anti-U.S. sentiment grows in Abbottabad, where about 600 demonstrators gather Friday at a rally, chanting "Go America, go America, your show is over."