Where in the world ... ?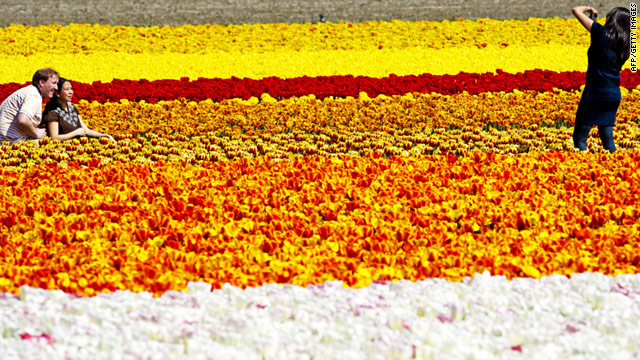 STORY HIGHLIGHTS
Do you know where this photo was taken?
CNN will post a new photo each Monday morning and reveal the answer later that day
The photo might be related to a recent story -- or it could just be something unusual we found
(CNN) -- [Updated 3:30 p.m. ET, Monday, April 25] The photo above was taken last week at the colorful tulip fields in Lisse, Netherlands.
Lisse is home to Keukenhof, one of the world's most famous flower parks. There are millions of tulips there in 100 varieties, according to the Keukenhof website.
Our first three commenters -- "Judith75012," "Maens" and "sefjil" -- were right on the money, and many other correct answers would follow later in the day. Commenter "mmin" was one of the people who even named the correct city: "There are fields and fields of flowers in that area at this time of year. It looks like quilts of color."
Three other locations were popular guesses, and they sound like some cool spots to check out if you're too far from the Netherlands: the Skagit Valley Tulip Festival in Mount Vernon, Washington; the Flower Fields of Carlsbad, California; and the Tulip Time Festival in (appropriately named) Holland, Michigan.
[Original post] Do you know where this photo was taken?
If you think you know the answer -- or if you just want to take a wild guess -- post it in the comments area below. Later in the day, we'll reveal where the photo was taken and give credit to those who figured it out first. (The more detail, the better!)
Each Monday morning, we'll post a new photo and challenge you to tell us its origin. The photo might be related to a prominent news story or theme -- or it might just be something that caught our eye.
Good luck!