At least 27 dead in Bangladesh ferry sinking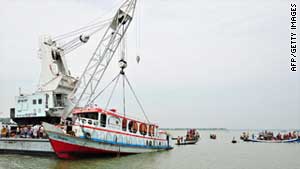 Rescue workers recover a passenger ferry which sank in Bangladesh.
STORY HIGHLIGHTS
Dozens of people are still missing in the Meghna River, police say
Many on the ferry's top level were able to swim to safety
The ferry was carrying about 100 people
Dhaka, Bangladesh (CNN) -- At least 27 people died Thursday when a ferry carrying about 100 people sank in a Bangladeshi river after striking a sunken cargo boat, police and officials said.
The incident occurred in Bangladesh's southeast Brahmanbaria district, in the Meghna River.
Divers have recovered 27 bodies, including 15 women, but "dozens of people are still missing" in the river, the district's administrative chief, Mohammed Abdul Mannan, told CNN.
Several thousand people were gathered on the banks of the Meghna to get information about their missing relatives.
Mannan said that the divers from the fire service and civil defense and the water transport authority were still at work to find bodies trapped inside the ferry.
The hull of the double-decker ferry, the M.L. Bipasha, was badly damaged after it hit the sunken boat, which had not been removed following an accident a few days ago, Mannan said.
Some passengers on the top level of the ferry were able to swim to shore, police said, but dozens of others -- many of them women and children -- were trapped on the lower level.
The boat was carrying more people than its capacity, local police chief Mohammed Zahirul Islam Khan told CNN.
Ferry accidents are common on Bangladesh's vast river network. Hundreds of people die in such accidents every year as the operators often ignore rules. Nearly 4,000 people are estimated to have lost their lives in ferry accidents since 1977.
From journalist Farid Ahmed
FOLLOW THIS TOPIC