STORY HIGHLIGHTS
Allan Cook shares his experiences in Tokyo, from day one through present

Cook has lived in Tokyo for 10 years and he never once thought of leaving

Share your Japan earthquake stories with CNN iReport
(CNN) -- Elation and a sense of accomplishment swept over Allan Cook as he completed the Tokyo Marathon. The first-time marathoner felt tied to the other 30,000-plus participants forever.
Less than two weeks later, on March 11, that sense of jubilation and togetherness vanished. The country was shocked silent when the massive 9.0 earthquake struck about 400 kilometers (about 250 miles) north of Tokyo, devastating the country, killing more than 14,000 people and leaving less than 14,000 missing to date.
"That happiness so quickly turned from the extremes of pleasure to the deepest depths of pain," Cook said. "When I take a look at the photos of that happy day again, photos of over 30,000 people all gathered together in one place at one time eager to achieve a fantastic goal, now I can't help but think of those near 30,000 lives that were lost (or missing) during the fateful day that the massive earthquake and tsunami came to steal away that peace and happiness."
For Cook, a British expat who has lived in Japan for 10 years, the past few weeks have brought not only change to Tokyo but also in how he lives daily life. A selection of his iReports, which he has filed since the quake hit, provide a glimpse into the fear of day one and some of the feelings of hope and almost constant uncertainty about six weeks later.
Day 1: March 11
Commuting to his job as an English teacher in central Tokyo, Cook felt the train start to tremble. The train crept into the nearest station and scores of rush-hour passengers fled for the platform.

Japan tsunami stress tests

Japan's evacuation zone deserted

iReporter on disaster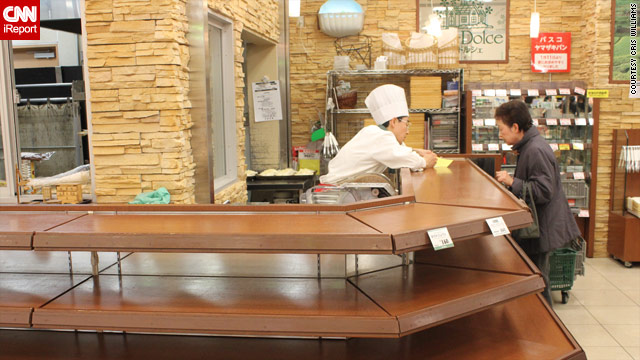 Gallery: Life in Tokyo
"The entire platform was moving beneath my feet as the train crashed against it," Cook said. "Many people had trouble standing and clung on to walls."
Should he go to work? Should he go home? Cook was riddled with doubt as to what to do. Fellow passengers were ambling about just as disoriented and scared as he was, he said. They were used to earthquakes, but none as strong as this.
The aftershocks that followed throughout the day were considerably smaller, but Cook told CNN that day that the upcoming days seemed grim. "It's difficult to see when things will return to a normal state."
When he emerged from the Myoden station, water was coming from the ground, an ambulance passed and throngs of people were in the streets, he said. The miles of stalled traffic told him he'd have to walk all the way home.
His 7-kilometer walk to Funabashi, Chiba, sent mixed messages. Groups of children wearing protective hats were leaving school. Not much later, he spotted a man jogging as if nothing had happened.
In his apartment though, there was no mistake that something epic had happened.
"When I got home all my stuff was on the floor. First thing I did was turn on my computer. I turned on my iTouch and called mother in London. I couldn't call anyone in Japan because the phones were down."
Day 2: March 12
Day two blended into the first as Cook surveyed the damages in his neighborhood into the morning hours. Around 2 a.m., he returned to the same train station, this time shocked for a different reason.
"People were in the convenience stores, hiding on the floor. I looked in one corner and there were 20 people hiding. Underneath the train station there were people sleeping there, waiting there because they couldn't get home," he said. He refrained from shooting video of the scene out of respect.
Day 6: March 16
Finding enough groceries to cook a decent meal, or even to make a sandwich, was impossible.
"Rice, bread, all those necessities had gone off the shelves," he said. "I don't think it was panic buying or chaos. It was pretty sensible. You have to feed your kids. People were having to buy things at a bigger rate because they knew they were going to have difficulty getting food."
Cook instead found salvation in fast food.
"One of the surprising things I noticed in the days after the earthquake was how important America's fast food restaurants' role is in keeping people over here fed!" he wrote in his iReport.
"Pretty much every supermarket has sold out of bread products, yet McDonalds and Subway are keeping their doors open and Japanese people seem pretty happy to be able to have American fast food and the steady supply of meals available to them in this difficult time!"
McDonalds also played a larger role for Cook because he knew it was a reliable place to get electricity. Many of the fast food joints had outlets, so Cook and others went there to charge their phones and computers.
"Since the earthquake, now I carry my chargers for everything -- phone, computer, iPod. Now if another earthquake hits, I can get electricity from somewhere," he said.
Day 7: March 17
By a week after the quake, Cook really started to miss breakfast. Usually he'd have some toast and milk or juice, but none of the stores had any on the shelves.
Cook resorted to donuts and other odds and ends he turned up at convenience stores. He went from store to store in his scavenger hunt for food. Only the day before did he find his first loaf of bread in a week.
More: Cook watches long lines snake around bread store
By day 7, Cook felt like hope had begun to shine through.
"I'm running a little low, but I think supply chains are starting to get shelves filled again, so I'm pretty optimistic," he told CNN that day.
Day 12: March 22
Several of Cook's English students were canceling their private lessons and fleeing the country out of nuclear fears. Mothers were afraid to walk their children to school when it rained, fearing contamination, he said.

Living with Japan's power crisis

9 months to shut down Japan's reactors?

Volunteers help tsunami survivors

Inside the Fukushima evacuation zone
The exodus made Cook nervous. He avoided tap water and purchased bottled water as the government suggested. The British Embassy had also sent him an e-mail encouraging him to leave Tokyo.
But, by this date, Cook's nuclear woes had faded as he listened to news that the maximum radiation levels in Fukushima were equivalent to getting an X-ray. The Japanese government also tried to allay the public's fears, saying nuclear radiation levels of seawater near the Fukushima power plant came back as normal that day.
He may have been scared, but never did he think of leaving Tokyo, he said.
"It was more sort of surprise that the government was saying to get out of Tokyo and then it turned to anger," he told CNN. "It was more of anger with the British government telling us to leave and scaring people. I thought all of the governments were just scaring people."
Day 23: April 2
Aftershocks had become part of daily life for Cook at this point and this day's 5.0 earthquake in the nearby Ibaraki prefecture rattled an area near his home.
Signs of power outages dotted Tokyo wherever he went. Getting around without electricity had been the norm for a few weeks now, he said.
No one said anything about sitting in dark subway trains or even the warmer-than-comfortable temperatures inside the cars. When on the street, traffic lights were off, too. Police directed cars to keep traffic moving in Cook's neighborhood during the blackouts.
"Blackouts are scheduled to continue throughout April!" he told CNN. "But it's terrible the tragedy that has happened in the northeast of Japan, so everybody is relatively unconcerned about the tough time."
Day 28: April 7
Empty monorail trains running by, theme park rides resting still, liquefied soil sitting in pools and eerie silence weighing down the air did not make this the place of dreams. Tokyo Disneyland had lost its magic.
The theme park, which is near Cook's home, had been closed for a month since the earthquake and the usual 60,000 visitors per day were noticeably absent.
"Walking around the site, security patrols are at every gate, and where there are usually lights and people everywhere to be seen, today there was darkness and silence instead," Cook said.
He likened the park to "the twin of the Fukushima evacuation zone."
Day 31: April 10
"Sometimes, I guess the power of tradition is stronger than anything," wrote Cook in his iReport about Tokyo's cherry blossom festival.
For 10 years, Cook has joined the masses that migrate to Iidabashi, central Tokyo, with bulky cameras and compulsory Japanese beer in hand to see the wondrous beauty of the cherry blossoms in bloom. The turnout this year was no different, despite the earthquake looming on Tokyo's mind.
"This year it definitely had enough power to breathe life back into Tokyo and everyone that lives here," he recollected.
Day 32: April 11
As Cook sat down to his salad muffin breakfast -- it's like an Egg McMuffin stuffed with salad, cheese and ham, drizzled with sauce -- at a McDonalds in Urayasu, cell phone warnings started blaring like sirens all around him.
Overhead light fixtures swayed from side to side and Cook felt the walls moving. Some people remained seated while reading the flashing alerts. One woman stood up to look outside. The 6.3 quake lasted merely seconds.
Cook now keeps his camera with him at all times, ready to film the action. He documents anything and everything related to the aftershocks these days.
"One guy was sitting there and he said, 'not again.' The problem is that you don't know how big they're going to be," he said.
The 7.4 earthquake the day before and the 6.3 quake on this date were troublesome, said Cook. He used to just shrug them off and wait as the gentle rumbling passed but now they were too noticeable.
"I've been in Tokyo for 10 years and in the last month I've felt the three biggest earthquakes of my life," he said in his iReport. The 7.4 quake was "probably as big as or bigger than the massive aftershock that hit immediately after the 9.0. It's quite worrying that such big quakes are happening so long after the main one!"
Day 36: April 15
Ongoing blackouts, power-saving measures and earthquake damage kept Tokyo Disneyland closed for five weeks, but on this day, the magical theme park reopened.
At the park's entrance, a sign said a portion of each ticket, ¥300, went toward the Red Cross earthquake relief fund. Cook was relieved to see Tokyo getting back on its feet economically.
Mickey Mouse and the whole Disney gang came out to play, reminding children of what life was like before the disaster.
"With thousands of people packing back into Disney, parents and children alike sought a little of Disney's magic to help them forget the traumas of the past month," Cook wrote in his iReport. "Not only was the sight of Mickey Mouse a comfort to so many kids, but undoubtedly parents, too, happy to see their kids lost in the excitement of Disney's magic."
Day 38: April 17
Massive cracks in the sidewalks and rubble-laden buildings make Shin-Urayasu look the same as it did nearly six weeks ago.
Passersby stop to examine the damage, scoping out the "signs of vulnerability."
Orange safety cones and yellow-and-black security tape are the only progress Cook has seen in this hard-hit area of Greater Tokyo, he said. Everywhere shops are closed and repairs seem to be indefinite.
"Everything has changed. But most of all, the things that cannot be seen have changed," Cook said. "Modern Japan and its Modern people have changed!"