Where in the world ... ?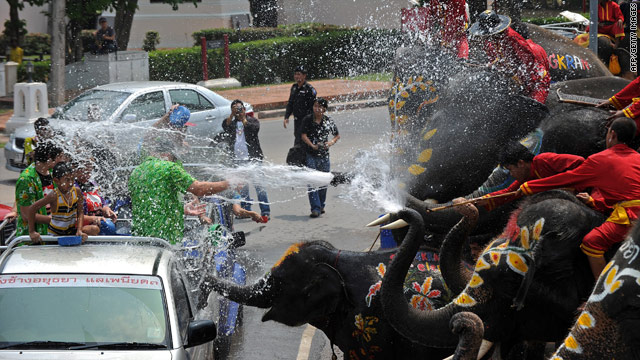 STORY HIGHLIGHTS
Do you know where this photo was taken?
CNN will post a new photo each Monday morning and reveal the answer later that day
The photo might be related to a recent story -- or it could just be something unusual we found
(CNN) -- [Updated 4:15 p.m. ET, Monday, April 18] The photo above was taken last week at the Songkran festival in Thailand's Ayutthaya province.

Songkran marks the beginning of the lunar year in Thailand. The ancient religious festival is an opportunity for Thais to relax with family, pay respect to monks and elders, and receive blessings of prosperity for the new year.
There are also good-natured water fights between people -- and apparently elephants, too!
Most of you were all over it in the comments, but first credit has to go to commenters "krippletoe," "cbozey" and "Ganolen."
"Nirquidian" later added that "the water is meant as a symbol of washing all of the bad away and is sometimes filled with fragrant herbs when celebrated in the traditional manner." Cool.
"Thaiguy333" was right on the money with the province of Ayutthaya, but with a name like Thaiguy333 we'd expect nothing less.
Well done, folks. We'll have to try harder to stump you next Monday.
[Original post] Do you know where this photo was taken?
If you think you know the answer -- or if you just want to take a wild guess -- post it in the comments area below. Later in the day, we'll reveal where the photo was taken and give credit to those who figured it out first. (The more detail, the better!)
Each Monday morning, we'll post a new photo and challenge you to tell us its origin. The photo might be related to a prominent news story or theme -- or it might just be something that caught our eye.
Good luck!