Suicide attack kills at least 13 in Afghanistan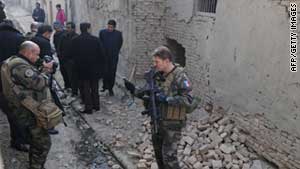 Soldiers with the NATO-led ISAF and Afghan policemen investigate at the site of an explosion in Kabul in January.
STORY HIGHLIGHTS
NEW: NATO, provincial and national officials have separate accounts of a bombing
ISAF: Contractors working for NATO were staying at the school
They were staying in the Bermal district of Paktika province
Kabul, Afghanistan (CNN) -- A suicide bombing targeting contractors working in eastern Afghanistan killed at least 13 people and wounded 50 others, according to conflicting accounts by NATO and government officials Monday.
The Afghan Interior Ministry described an attack that killed 20 construction workers and wounded 56 others.
The governor's office in Paktika Province had a third account of a suicide attack.
"Twenty-four people were killed and 59 people were injured while a car bomb full of explosive devices entered in to Zahir Construction Company and detonated the explosive at 8:30 p.m. last night," the governor's office said in a statement.
It was not immediately clear if NATO's International Security Assistance Force and Afghan officials were talking about the same incident.
In ISAF's account, an attacker drove a car bomb into a madrasa, a religious school, in the Bermal district of Paktika Province at 12:30 a.m Monday.
Afghan contractors working for ISAF at a nearby base were staying at the school at the time of the attack, according to the force.
The Interior Ministry said three suicide bombers using a truck full of explosives attacked the Zahir Construction Company four hours earlier on Sunday, killing a security guard, entering the company's compound and detonating the explosives.
The ministry said it condemns the suicide attack in the "strongest terms."
Authorities have launched an investigation, the ministry said.
CNN's Matiullah Mati contributed to this report.
FOLLOW THIS TOPIC