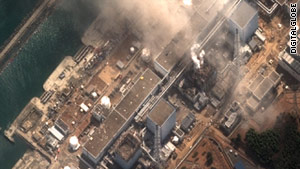 An aerial view of the Fukushima Daiichi nuclear plant
STORY HIGHLIGHTS
The operators of the Fukushima Daiichi nuclear plant have come under fire

Critics say TEPCO has not told the entire truth of what's been happening

The company denies they've been hiding critical data

(CNN) -- The operator of the nuclear reactors and power plants on the northern coast of Japan has a documented history of errors and cover-ups and, according to anti-nuclear activists, a pattern of hiding the truth when things go wrong.
Amidst the confusion and uncertainty surrounding the exact nature of the stress and damage at the Fukushima Daiichi nuclear plant, even Japan's Prime Minister, Naoto Kan, was overheard demanding from officials of the Tokyo Electric Power Company (TEPCO) why the company withheld some information from the government.
Those reported comments were in themselves unusual because in the past, critics say, there has been close cooperation between the two.
"The history of the Japanese nuclear industry and the government is that is very tight and is less than glorious in regard to public information and full disclosure," Arjun Makhijani told CNN.
Makhijani is director of a small Washington-based public interest group called the Institute for Energy and Environmental Research and has long been critical of nuclear power, both in the United States and around the world.

Smoke spews from reactor

Japan's elderly struggle to survive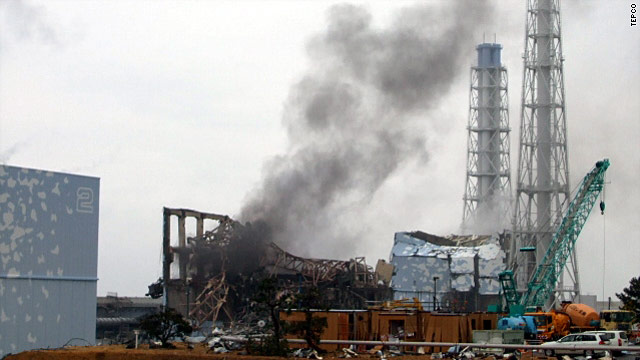 Smoke plumes rise from nuclear reactors

Why spent fuel rods should matter to you
"These events are unprecedented," he said, "and there's every reason to believe TEPCO has not told the entire truth of what's been happening."
TEPCO officials deny they have been hiding critical data from the Japanese government.
But there's a detailed history of just those kinds of events in the recent past.
In 2002, the president of TEPCO and four other executives resigned when it was discovered that repair and inspection records at the Fukushima plant had been doctored. The company admitted "dishonest practices" after an internal investigation.
"It was discovered that TEPCO had covered up incidents of cracking of an important piece of equipment in all of its reactors and as a result, they were forced to shut down all 17 of their reactors," anti-nuclear activist Phillip White told CNN. White is the English-language liaison for an organization called Citizens Nuclear Information Center (CNIC), Japan's largest anti-nuclear organization.
"There was a pattern that emerged that TEPCO isn't frank and deliberately covers up to protect its own interests," he said.
In 2007, an 6.8-magnitude earthquake struck western Japan and affected another plant owned by TEPCO. The company reported only a minor fire but later, admitted that the fire had burned for two hours and that hundreds of gallons of radioactive water had leaked into the sea.
"The plant simply wasn't designed for the level of earthquake that took place, " Makhijani told CNN. "They were very lucky not to have a bigger disaster then."
Against that background is what White and other anti-nuclear activists say is a far too-cozy relationship between Japanese nuclear regulators and power plant operators like TEPCO.
The chief regulatory agency is called Nuclear Industrial and Safety Agency (NISA), but it does not, according to critics, operate at an arms-length distance from the industry it is charged with regulating. NISA is part of the giant Japanese Ministry of Economy, Trade and Industry (METI). That ministry is charged, among other things, with selling Japanese technology (including nuclear technology) abroad.
"There's no true regulation of the Japanese nuclear industry," Phillip White told CNN. "It's just an amiable fiction."
NISA approved a 10-year extension for the life of the oldest of the six reactors at Fukushima Daiichi just before the earthquake struck, despite allegations that safety at the reactor in question had been questioned.
TEPCO admitted on its website that it had failed to properly inspect 33 pieces of equipment related to the cooling systems at the reactor, and told CNN that everything that needed to be addressed has been done. It said it would take corrective action in the future to prevent similar problems from occurring.
Nuclear experts tell CNN that the reactors are now almost certainly inoperable in the future.
As one physicist, Dr. Kenneth Bergeron, told CNN, "It's a very frightening situation. And we can only hope for the best."
FOLLOW THIS TOPIC