10 miners killed in Pakistan blast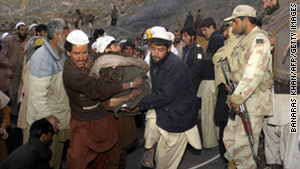 Pakistani miners and their relatives carry the dead body of a miner from a coal mine in Sorange district.
STORY HIGHLIGHTS
NEW: The bodies of three more miners are found
Methane gas explodes in a coal mine near Quetta in Pakistan
At least 40 miners are missing, and possibly dead, an official says
(CNN) -- At least 10 miners were killed by a methane gas explosion in a coal mine in the southwestern Pakistani province of Balochistan on Sunday, a government official told CNN.
Another 40 are missing, possibly dead, said Muhammad Iftikhar, the chief inspector of mines.
"It is yet to be confirmed whether the remaining miners are dead or alive," he said. "I fear that they might be dead considering the depth of the mine."
He said a rescue operation has been launched to try to recover the trapped miners.
Ten bodies have been recovered from the mine in Soringe area, 35 km (about 22 miles) east of Quetta.
He said that the explosion had destroyed six mud-walled rooms near the coal mine.
FOLLOW THIS TOPIC