STORY HIGHLIGHTS
NEW: Japan's prime minister says the risk of further releases of radioactive material is "very high"
NEW: A fire has erupted in a fourth reactor at the damaged Fukushima Daiichi plant
NEW: The official death toll climbs to 2,475, and at least 3,118 people are still missing
Another "explosive impact" is heard at the nuclear plant
For up-to-the-minute news on developments in Japan read "This Just In" blog and don't miss 'AC360' tonight at 10 ET on CNN for live reports from Anderson Cooper, Dr. Sanjay Gupta and Soledad O'Brien.
Sendai, Japan (CNN) -- Japanese Prime Minister Naoto Kan said Tuesday the risk of further releases of radioactive material remains "very high," as crews struggle to contain an increasingly critical crisis at a damaged nuclear plant.
Radiation levels at the Fukushima Daiichi nuclear power plant have increased to "levels that can impact human health," and anyone within a 30-kilometer radius of the plant should remain indoors, Chief Cabinet Secretary Yukio Edano said soon after Kan spoke.
Nearly all of the plant's staff -- some 800 people -- have left, Edano said. Just 50 remain to carry out crucial cooling work.
"There is still a very high risk of further radioactive material coming out," the prime minister said, calling on people to remain calm. "We are making every effort possible so that no further explosion or no further leakage ... would happen."
Kan spoke as a new fire burned at the No. 4 reactor at the damaged Fukushima Daiichi nuclear power plant in northeastern Japan.
An "explosive impact" occurred Tuesday morning at the No. 2 reactor, a day after a hydrogen explosion rocked another reactor, the plant's owner said. Pressure readings indicated some damage to the No. 2 reactor's suppression pool, a donut-shaped reservoir at the base of the reactor containment vessel.
An explosion in a building housing the No. 3 reactor at the Fukushima Daiichi plant injured 11 workers Monday. A similar explosion over the weekend occurred in the No. 1 reactor.

Red Cross: Extent of damage 'amazing'

Economist: Japan 'should bounce back'

Nuke expert: 'Definitely not good news'

Watching as their homes wash away
Edano said earlier Tuesday he could not rule out the possibility of a meltdown at the troubled reactors. While sea water was being pumped into the reactors in an effort to prevent further damage, "it cannot necessarily be called a stable situation," he said.
Meanwhile, rescue workers continued Tuesday to scour tangled and displaced piles of debris, searching for survivors.
Friday's 9.0-magnitude earthquake and the ensuing tsunami killed thousands, based on official and Japanese media reports, but an exact accounting of the disaster remains hidden beneath widespread damage that rescuers are only beginning to unearth.
The confirmed death toll, growing every few hours, reached 2,475 on Tuesday. The number of dead is expected to rise, as rescuers reach more hard-hit areas.
At least 3,118 people were still missing Tuesday, the National Police Agency said. Public broadcaster NHK reported that 450,000 people were living in shelters.
In Tokyo, many trains were not running or were severely delayed because of power outages.
Japanese public broadcaster NHK, citing police and disaster management officials, reported that 63,000 buildings had been damaged, and more than 6,000 of them had been obliterated.

Cooper: Debris 'about ten feet thick'

Quake survivor 'doing 100% better'

Yoko Ono on Japan's resilience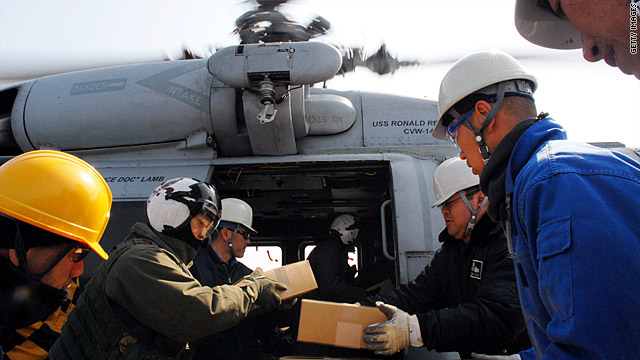 Gallery: Japan begins road to recovery
In Miyagi Prefecture, rescue workers sifted through mountains of debris as the hope for survivors appeared to dim.
In the Sendai area, where buildings were disintegrated by rushing water within seconds during the tsunami, a bizarre mix of sport-utility vehicles, cabinets, sofas, a taxi and a doll were heaped in a pile outside the remnants of a house.
Solemn residents waited in lines that stretched blocks for food, water and gas. Despite the devastation surrounding them, the crowds appeared calm and orderly, even as stores rationed what they would sell to individual people.
At a shelter in Sendai, a shell-shocked man who fled the tsunami would not let go of his 3-week-old infant. "I have to protect my children. I have to protect my children," he said.
Another survivor wiped away tears after someone she barely knew gave her food and water.
Cold weather has increased the hardship for disaster victims and rescuers. Rescuers report that some victims have been exposed to cold weather and water, in some cases for days. Conditions are expected to worsen, with temperatures forecast to drop below freezing by Wednesday across portions of the earthquake zone, accompanied by snow, heavy rain and the threat of mudslides.
About 15,000 people have been rescued, Kyodo News reported Monday, citing Japanese Prime Minister Naoto Kan. On Sunday, he called on people to pull together and face sacrifices during what he called the "toughest and most difficult crisis for Japan" since the end of World War II.
Among the residents rescued was a woman carried into a shelter by a civil defense solider, NHK reported. After he gingerly set her down, the woman rose to her feet with some difficulty and bowed to the soldier, told him she was all right, bowed again and then collected herself to briefly tell her story, paraphrased by an NHK interpreter:
"She had been waiting for help all night outside. She had been washed away by the wave. ... The moment she opened the door of the house, the water flooded in. ... She grabbed hold of a tree and hung on, hung on for dear life with the water all around her. A ... floor mat floated by, and she grabbed it and held on to that."
As the woman spoke in Japanese, the interpreter's voice trembled in English: "Her daughter was washed away. She was washed away, and she has not found her."
The problem of trying to keep Japan's large, modern industrial economy running added to the difficulties facing the nation.
With the imperiled Fukushima plant offline, Tokyo Electric Power said it was expecting a shortfall of about 25 percent capacity, which necessitated blackouts. Up to 45 million people will be affected by the rolling outages, which will last until April 8.
Experts predict that the earthquake and tsunami will rank among the costliest natural disasters on record.
Japan's central bank announced plans Monday to inject 15 trillion yen ($186 billion) into the economy to reassure global investors of the stability of Japanese financial markets and banks.
Still, Japanese markets dropped sharply Tuesday for a second day, falling more than 10 percent by noontime.
That was on top of a 6.2% drop Monday, the first full trading day after the quake, which also marked the largest single-day fall since September 2008 after the collapse of Lehman Brothers during the financial crisis.
A massive emergency response operation is under way in northern Japan, with world governments and international aid groups coming together to bring relief to the beleaguered island nation. Ninety-one countries and regions and six international organizations have offered assistance, according to the Japanese Foreign Affairs Ministry.
Friday's quake was the strongest in recorded history to hit Japan, according to U.S. Geological Survey records that date to 1900. The USGS revised the magnitude of the quake upward to 9.0 on Monday, from 8.9. The world's largest recorded quake took place in Chile on May 22, 1960, with a magnitude of 9.5, the agency said.
CNN's Gary Tuchman, Anna Coren, Kyung Lah, Paula Hancocks, Dean Irvine, Stan Grant, Kevin Voigt, Sean Morris, Holly Yan and Ed Payne contributed to this report.
FOLLOW THIS TOPIC