Suicide attack kills 36 in Afghanistan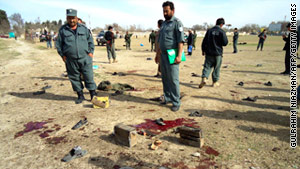 Security personnel look over the site of a suicide bomb attack in Kunduz, Afghanistan.
STORY HIGHLIGHTS
Most of the dead and injured were trying to join the Afghan army
Toll is likely to rise because of serious injuries
Four children were among the dead
Kabul, Afghanistan (CNN) -- A suicide attack killed 36 people and injured 42 Monday at a recruitment center for the Afghan national army, a government official said.
The attack happened in northern Afghanistan's Kunduz province, said a spokesman for the provincial governor, Mohibullah Saidi. The death toll is likely to rise, he said, as many of the injuries were serious.
Most of the dead and injured were planning to join the army, he said, but the attack also killed four children.
Jouranlist Yama Elham contributed to this report for CNN.