STORY HIGHLIGHTS
Moments of the quake from the first strike to tsunami hit
Concerns now of damage of nuclear power plants
Earthquake was the largest in Japanese history
(CNN) -- Here's a minute-by-minute look at the devastating earthquake and tsunami that hit Japan on Friday and subsequent worries over damage at nuclear power plants. (All times and dates are local Japanese time).
FRIDAY
2:46 PM
Magnitude 8.9 earthquake 231 miles northeast of Tokyo, Japan at a depth of 15.2 miles.
Quake is fifth largest in the world (since 1900) and the largest quake ever to hit Japan.
Pacific Tsunami Warning Center issues tsunami warning for the Pacific Ocean from Japan to the U.S. west coast. Tsunami alerts sound in more than 50 countries and territories. .
Within an hour after the quake a wall of water up to 30 feet high washes over the Japanese coast.
Cars, boats and trains are swept away. Buildings collapse. Roads and highways are severed. Fires break out in many locations.
7:39 PM
Casualty reports begin to come in. Kyodo News Service reports at least 32 dead.
8:15 PM
Japanese government declares emergency for nuclear power plant near Sendai, 180 miles from Tokyo. Japan has 54 nuclear power plants.
9:35 PM
4 nuclear power plants closest to the quake are shut down.
10:29 PM
Cooling system at Fukushima nuclear report are reported not working: Authorities say they are "bracing for the worst.
Several thousand people living within a mile-and-a-half of the plant are ordered to evacuate.
10:48 PM

Japan resident describes nuke evacuation

83 aftershocks in 21 hours in Japan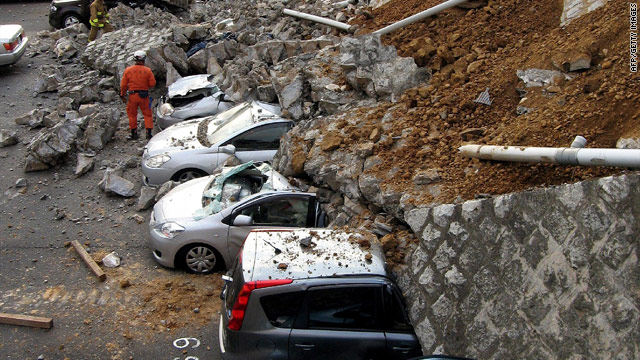 Gallery: Massive quake hits Japan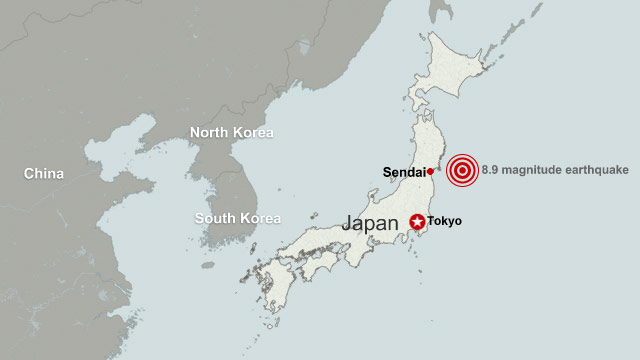 Map: 8.9 earthquake hits Japan
Police report finding 200 -- 300 bodies in coastal city of Sendai.
60,000 -- 70,000 city residents evacuated to shelters.
11:40 PM
National Police up the confirmed death toll to 93.
11:53 PM
A fire at Onagawa nuclear plant is extinguished, according to the International Atomic Energy Agency.
SATURDAY
12:39 AM
Fires are reported in at least three Japanese prefectures (Hakodate, Chiba, Miyagi). An oil refinery was ablaze near Tokyo.
12:42 AM
A dam breaks in Fukushima prefecture, washing away scores of homes.
12:59 AM
4 million homes in Tokyo and surrounding areas are without power.
1:07 AM
Kyodo News Service puts number of confirmed deaths at 137.
1:31 AM
Delta cancels 29 flights into and out of Tokyo.
American Airlines diverts six flights en route to Tokyo to other airports.
1:57 AM
US Navy announces movement of seven ships toward Japan to assist relief efforts.
2:06 AM
Radiation level in Fukushima No. 1 nuclear power plant reported rising.
3:05 AM
President Obama says Japan's prime minister told him no evidence of radiation leaks from his country's nuclear power plants.
3:24 AM
Japanese trade minister Banri Kaieda says small radiation leak could occur at Fukushima nuclear plant.
3:34 AM
National Police up confirmed death toll to 151.
3:42 AM

Residents watched as water rushed in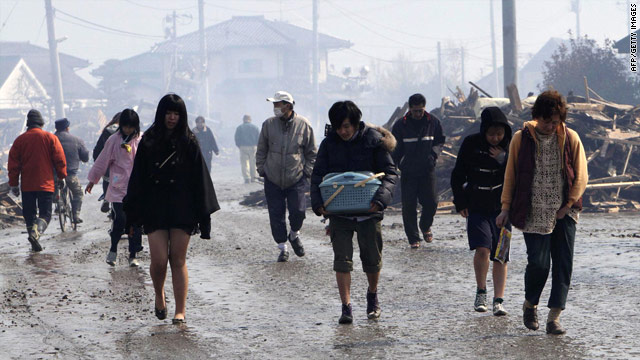 Scenes from the quake

Japan's streets unrecognizable after quake

Train cars thrown, crushed in tsunami
Secretary of State Hillary Clinton announces US Air Force planes are headed to Japan carrying coolant for the Fukushima nuclear power pant. The report that the planes carried coolant is later found to be erroneous.
4:21 AM
6.2 magnitude earthquake hits Nagano and Niigata prefectures, according to the US Geological Survey.
4:40 AM
Power company officials announced they will vent possibly radioactive air from the Fukushima nuclear plant to avoid a breakdown of the reactor's containment vessels.
5:00 AM
Nuclear emergency declared at Fukushima Daiichi nuclear power plant.
Officials report the earthquake and tsunami cut off the plant's electrical power and that backup generators had been disabled by the tsunami.
5:15 AM
Coming of dawn reveals miles of highways closed by the quake.
13,000 people reported stranded at Narita airport, another 10,000 at Tokyo's Haneda airport.
5:44 AM
National Police now put death toll at at least 184.
5:56 AM
Another earthquake --- one of a series over the past 24 hours --- hits west coast of Honshu. The quake had a strength of 6.3 magnitude.
6:45 AM
Tokyo Electric Power IC. says radioactive substances could have leaked at the Fukushima No, 1 nuclear plant. Japan's Nuclear and Industrial Safety Agency says radiation near the plant's main gate is more than eight times normal level.
8:15 AM
Tsunamis continue to awash ashore on Japan's northeast coast.
Death toll now put at at least 427.
8:45 AM
Foreign minister says 25 countries, including the US, have offered assistance, including rescue teams and relief supplies.
9:45 AM

Timeline of disaster in Japan

Survivor describes roof collapse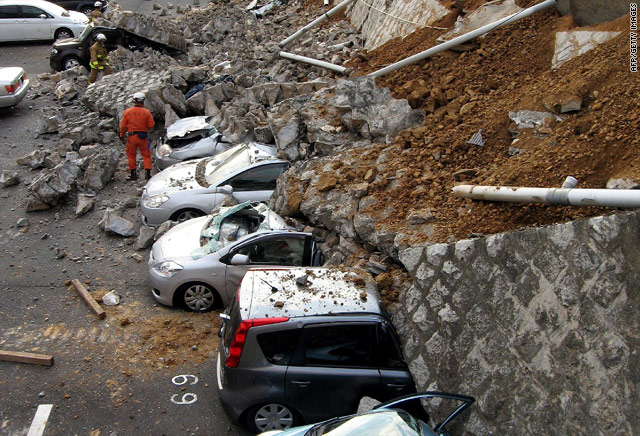 Gallery: Massive quake hits Japan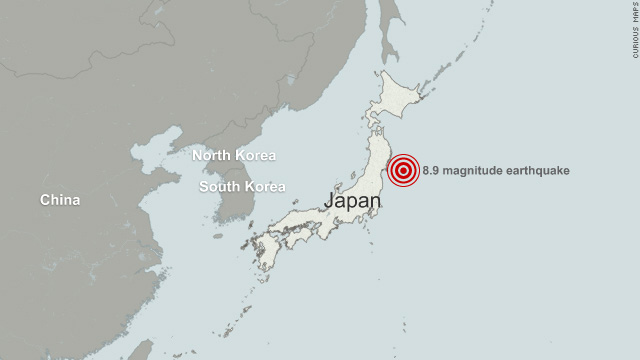 Map: 8.9 earthquake hits Japan
Tokyo Power Co. says cooling systems at three of the four units of its Fukushima Daini plant have failed.
11:20 AM
At least 6 million homes -- 10 percent of Japan's households are without electricity, according to the country's ambassador to the US.
12:32 AM
Stores begin to run out of food, water and gasoline as masses of residents of northern Japan stream south from their earthquake-stricken hometowns.
4:17 PM
Death toll rises to at least 900, according to the NHK broadcast network.
Rescuers struggle to pull survivors from collapsed homes, food waters, and fires.
4:19 PM
A small amount of radioactive Cesium has escaped from a nuclear plant in Fukushima prefecture, according to Japan's Nuclear and Industrial Agency. Officials say the leak could have been caused by the melting of a fuel rod.
6:22 PM
Tokyo Electric Company says an explosion at the Fukushima Daiichi plant injured four workers. (Kyodo News Agency will later quote electric company officials as saying the explosion caused the roof of a reactor to collapse.)
7:17 AM
Technicians worked to contain temperatures at two Japanese nuclear power plants where cooling systems had been crippled by the disaster.
In the US, nuclear expert Robert Alvarez (Institute for Policy Studies in Washington) says the situation "has the potential for disaster."
7:59 PM
US Geological Survey says the quake appears to have moved Japan's main island --- the whole island --- by 8 feet and shifted the earth on its axis.
8:18 PM
Evacuation area around Fukushima Daiichi nuclear power plant extended to 20 kilometers (about 12.5 miles.)
8:54 PM
Authorities insist no harmful gasses had been emitted by the explosion at Fukushima nuclear plant. They blamed the explosion on "water vapor that was part of the cooling process."
9:07 PM
Fires reported at more than 200 locations in 12 of Japan's prefectures.
10:01 PM
US Marines aircraft and helicopters are dispatched from bases on Okinawa to help in relief efforts.
10:35 PM
Radiation levels at the Fukushima Daiichi plant are reported to have fallen, as officials prepare to flood the containment structure with sea water to bring temperatures down.
Authorities make plans to distribute iodine tablets --- a treatment to prevent radiation poisoning -- to residents near two damaged nuclear plants.
10:37 PM
About 9500 people --- half the population -- are reported to be unaccounted for in the town of Minamisanriku on Japan's Pacific coast.
10:49 PM
A cabinet official says the collapse of the walls of a building at the Fukushima Daiichi plant did not damage the reactor and its containment system.
11:48 PM
Many areas experience blackouts as power plants are shut down for safety reasons. The number of houses without power is down to just over 5 million, according to the power company.
SUNDAY
12:03 AM
More than 83,000 people living within 3 miles of two power plants begin a government-ordered evacuation.
12:51 AM
50,000 Japan Self-Defense Forces personnel, 190 aircraft and 25 ships have been deployed to help with rescue efforts, the Defense Ministry announced.
1:49 AM
Broadcaster NHK reports the Defense Ministry had sent a team specializing with radioactive contamination to a command post near the plant where a radiation leak had occurred.
3:10 AM
Gasoline sales in Tokyo are limited to 20 liters (5.3 gallons) per car.
3:20 AM
Three people (selected at random out of 90) test positive for radiation exposure in Fukushima prefecture.
5:37 AM
There is news that Japanese authorities have informed the International Atomic Energy Agency (IAEA) that the explosion at the Fukushima Daiichi plant occurred outside the primary containment vessel. The Tokyo Power Company says the integrity of the containment vessel has not been compromised. Sea water mixed with Boron is being injected in an effort to cool the system.
LATER ON SUNDAY MORNING
A government official says a meltdown may be occurring at the damaged plant, sparking fears of a widespread release of radioactive material . Meanwhile, another reactor at the same facility failed Sunday morning -- bringing to three the number of units there that are experiencing major problems in cooling radioactive material
FOLLOW THIS TOPIC