'Slumdog' child star loses home in Mumbai fire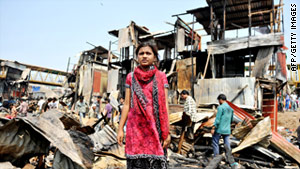 "My awards are gone, my memories are gone," said Rubina Ali, star of "Slumdog Millionaire."
STORY HIGHLIGHTS
Rubina Ali, 12, says she lost her movie awards
She played the young Latika in "Slumdog Millionaire"
She and her family are moving into a new home provided by a trust
New Delhi (CNN) -- "Slumdog Millionaire" child star Rubina Ali says her home was gutted by a fire that tore through her Mumbai slum.
"There was fire everywhere, there was so much chaos, my house was completely burned down, the whole slum was burned down," Rubina told CNN on Sunday.
The 12-year old said she was watching TV Friday when her neighbors started yelling "fire, fire!"
She then grabbed everything she could get her hands on and ran out. "But my awards are gone, my memories are gone," she said.
Ali was referring to the numerous awards she received for her role as the young Latika in the critically acclaimed film that nabbed multiple Academy Awards..

2009: Slumdog stars not millionaires
Rubina said the her family is now living in a temporary shelter. Rubina's father Rafiq Qureshi said they plan to move into a new home provided by a trust set up by the film's director Danny Boyle next month.
"They were in transit. They were just about to move to an apartment the Jai Ho Trust has allotted for them," said trustee Nirja Mattoo said. "But as the building is new, they were waiting for the water and electricity to be installed. But unfortunately this incident happened."
Mattoo confirmed Rubina and the family were still residing in the Garib Nagar slum when the fire broke out.
"Our social worker has been meeting Rubina and her family and assessing the situation," Mattoo said. "They lost everything except for an LCD TV and some clothes."
Rubina said she is grateful for the support she and her family have been receiving from the trust.