Fraud claim fells India anti-corruption chief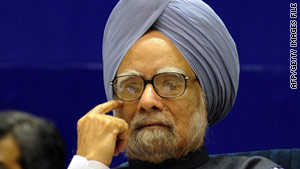 Prime Minister Manmohan Singh's government has been wracked by a series of corruption scandals in the past year.
STORY HIGHLIGHTS
Court says the charges were overlooked when the appointment was made
Thomas has been linked to a deal to fraudulently import palm oil at higher prices
He insists the charges are baseless
New Delhi, India (CNN) -- India's beleaguered government suffered another blow Thursday as the country's Supreme Court quashed the appointment of the top anti-corruption investigator because he himself faced allegations of fraud.
The Supreme Court noted that charges of corruption against the man chosen to head India's anti-corruption commission were overlooked while making the appointment last year, attorneys said.
Central vigilance commissioner P.J. Thomas has been linked to a deal to fraudulently import palm oil from Malaysia at higher prices as a senior bureaucrat in the southern state of Kerala in the 1990s.
He insists the charges against him are baseless.
The Supreme Court quashed Thomas' appointment, citing the pending case against him, advocate Prashant Bhushan said.
Bhushan represented a group of petitioners who had challenged the selection of Thomas for the key post.
Indian opposition parties, which have forced prime minister Manmohan Singh's embattled administration to order a parliamentary probe into a massive, multi-billion-dollar telecom scandal, demanded the government make a statement to lawmakers on the annulled appointment.
Now in its second term, Singh's ruling coalition has suffered a huge reputation crisis because of a series of corruption scandals that came to light last year.
FOLLOW THIS TOPIC