STORY HIGHLIGHTS
Police superintendent: "We cannot replace those we have lost"
New Zealand officials say 154 people are dead after last week's Christchurch earthquake
The death toll is likely to rise, officials say
More than 170 people are working to identify victims
(CNN) -- New Zealanders paused at 12:51 p.m. Tuesday for two minutes of silence, marking the time a week ago when a shallow, 6.3-magnitude earthquake struck Christchurch, toppling historic buildings and killing more than 150 people.
The death toll from the quake has risen to 155 and is expected to increase, police said in a statement Tuesday.
Christchurch police superintendent Dave Cliff said the brief respite was an opportunity for police and other emergency staff to be still for a while.
"We know that the time will come that all of this will hit hard," Cliff said. "We know the roads will be fixed and the buildings rebuilt, but we cannot replace those we have lost. Their absence will leave a hole that cannot be fixed."
Christchurch police have been joined by 330 Australian police officers, who were sworn in as New Zealand police last week.
The work of emergency personnel is far from over, authorities said.

New Zealand missing feared dead

Quake survivors sift through rubble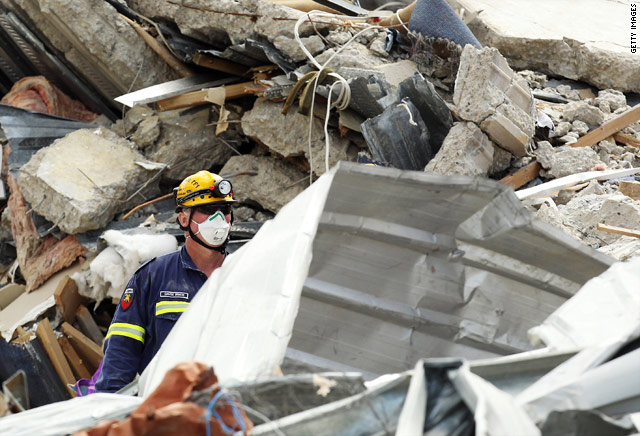 Gallery: New Zealand quake
On Tuesday, New Zealand's civil defense minister issued a weeklong extension of the national state of emergency and said it would likely continue for several more weeks "due to the scale of this disaster."
The earthquake struck the central business district of Christchurch on February 22, buckling streets and ripping the facades off iconic churches, including the Christchurch Cathedral and the Cathedral of the Blessed Sacrament.
Rescue and recovery crews saved 70 people from the rubble before turning their attention to identifying the bodies of victims. More than 170 people are working on this, according to police.
They urged people to stay out of damaged buildings, many of which are so unstable they could collapse without warning. They also asked sightseers to stay away and asked for patience from people who want to get into the downtown business district, or CBD, for legitimate reasons.
"We are also very aware of a growing frustration by people who have cars within the CBD they want to retrieve, and businesses that they want to check on," police said in a statement. "We understand these frustrations but the CBD is still fraught with danger and any access has to be controlled. At this stage our focus has to remain on the rescue operation."
Southern New Zealand has been hit by a series of quakes since September 4 when a 7.1-magnitude earthquake struck the area. That earthquake struck deeper below ground and farther from Christchurch and it hit in the predawn hours, so there was less damage and no deaths, officials said.
The U.S. Geological Survey said the February 22 earthquake was part of the "aftershock sequence" from the September event.
New Zealand officials have established a global fund-raiser -- dubbed the Christchurch Earthquake Appeal -- to help victims.
"It's vital we reach as many people throughout the world as possible who want to help. This isn't just New Zealand's tragedy -- the February 22 earthquake affected countless people internationally," Prime Minister John Key said in a statement.
FOLLOW THIS TOPIC