China postpones planned execution of Filipinos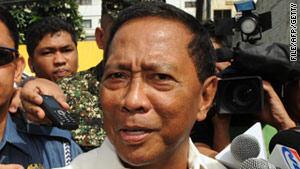 Jejomar Binay (pictured in June 2010) will appeal to the Chinese government for clemency for three Filipinos.
STORY HIGHLIGHTS
NEW: Binay tells CNN of "sincere appreciation to China" for the decision to postpone
Three Filipino nationals were arrested separately in 2008 for drug offenses
Chinese foreign ministry spokesman: Chinese government highly values relations with Philippines
Beijing, China (CNN) -- China postponed Friday the planned execution of three Filipinos, following a visit to Beijing by Philippine Vice President Jejomar Binay, appealing for clemency.
China has decided to "postpone the execution within the scope of the Chinese law," the two nations said in a joint statement after Binay met with Wang Shengjun, president of CHINA'S Supreme People's Court (SPC) and senior foreign policy officials.
"The Philippine side stated that it fully respects China's law and the verdict of the SPC," the statement continued. "The Philippines and China are determined to work together in the fight against transnational crimes. Including drug trafficking."
Binay told CNN: "We express sincere appreciation to China for the SPC decision."
Ramon Credo, Sally Ordinario-Villanueva and Elizabeth Batain had been convicted of drug trafficking in China, a crime punishable by death.
All three were arrested separately in 2008 and scheduled to be executed early next week.
In a statement Thursday before he left the Philippines, Binay said: "We do not condone drug trafficking. However, we believe that these Filipinos were merely victims of international drug syndicates. I carry with me the prayers of the Filipino people that clemency could be granted on humanitarian grounds."
Chinese foreign ministry spokesman Ma Zhaoxu said during a regular briefing Thursday: "I want to emphasize that this is an individual criminal case."
Ma added that the Chinese government highly values developing a friendly relationship with the Philippines. "Since President Aquino took office, through joint effort of both sides, the relationship between China and Philippine has entered a new phase of development," Ma said.
"Both sides have good cooperation in every aspect. We hope and believe that Philippine also bears in mind the big picture of the relationship between two countries, handle the relevant issue properly, and jointly maintain a healthy and stable development of Sino-Philippine relations."
China previously turned down the Philippine government's request to send Binay to appeal for a stay in the planned executions.
On Thursday, however, the Chinese government gave the go signal for Binay to come to Beijing. In a statement earlier this week the office of the Philippines president said that the visit "reaffirms the close friendship between the Philippines and China and gives both sides the opportunity to further collaborate on ways and means to address the drug trafficking menace."
Binay is expected to fly on to Hong Kong Saturday afternoon.
FOLLOW THIS TOPIC