Indian PM tries to soothe frustration over government corruption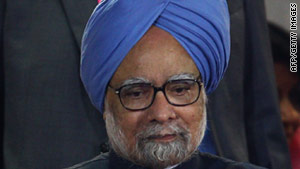 Indian Prime Minister Manmohan Singh's government is facing massive criticism for its handling of endemic corruption.
STORY HIGHLIGHTS
Singh: The government is "dead serious" about fighting corruption
He says scams are hurting the country's image
High inflation is a problem, Singh says
He touted an expected 8.5% growth in the economy this year
New Delhi, India (CNN) -- India's prime minister vowed Wednesday that his government is "dead serious" about fighting corruption within its ranks, a scourge he said threatens to tarnish India's reputation worldwide.
Prime Minister Manmohan Singh said authorities will identify "all the wrongdoers, regardless of their position" who were involved in major corruption scandals that have plagued his coalition government.
Government corruption has been making headlines for months in India due to cases involving the Telecommunication Ministry, the Commonwealth Games Committee, and a government housing society, to name a few.
Singh said the scandals give the impression that India is "a scam-driven country and that nothing good is happening in our country."
He also said the problems may be "weakening the self-confidence of the people of India."
The prime minister's comments came in a news conference broadcast live on state television.
Singh implored the senior domestic journalists and international journalists attending the briefing to stop giving the impression that "nothing good is happening" in the country.
To that end, he hailed the government's ability to weather the storm of the global financial crises.
"Our economy is in good shape," the prime minister said. "We will have a growth rate of 8.5 percent this fiscal year and ... the way India has come out and tackled the aftermath of international financial crises, I think, does out country a great credit."
But he admitted that double-digit inflation -- particularly food inflation -- "has been a problem."
Singh said if the government was only concerned with curbing inflation, it could have solved the problem already by "pursuing tighter monetary policies." However, he said, the government wants to deal with inflation in a manner in which the growth rhythm is not disturbed.
Food inflation has been particularly hard on the 300 million Indians living in poverty, reaching 17% at one point this year.
The inflation rates, as well as frustration over the number and scope of corruption scandals, is testing the population's patience.
"For every single issue, there is an excuse to defend the absolute indefensible," opposition party leader Brinda Karat told CNN's partner in India, CNN-IBN.
Singh is in the middle of his second five-year term as prime minister. When asked if all the corruption allegations within his own party may push him to resign, he said no.
FOLLOW THIS TOPIC