Official: Veteran diplomat to be U.S. envoy to Afghanistan, Pakistan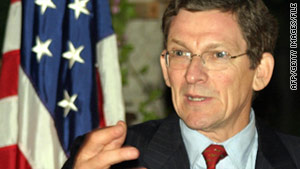 Marc Grossman will replace the late Richard Holbrooke as the U.S. special envoy to Afghanistan and Pakistan.
STORY HIGHLIGHTS
Official: Marc Grossman will be named U.S. envoy to Afghanistan and Pakistan
He would replace veteran diplomat Richard Holbrooke, who died in December
Grossman works for the Cohen Group, a DC consultancy headed by an ex-defense secretary
He was under secretary of political affairs between 2001 and 2005, under George Bush
(CNN) -- Former ambassador Marc Grossman will be named this week to replace the late Richard Holbrooke as the U.S. special envoy to Afghanistan and Pakistan, a senior Obama administration official said.
The official was not authorized to speak on the record about who would assume the position as the Obama administration's point man in the volatile region.
Grossman is currently vice chairman of the Cohen Group, a Washington-based consulting group headed by former U.S. defense secretary and senator William Cohen.
The post has been vacant since December, when the 68-year-old Holbrooke died while being treated at a Washington hospital for a tear in his aorta. The veteran diplomat's memorial service the next month drew scores of diplomats and officials, including President Barack Obama and Pakistani President Asif Zardari. The latter described Holbrooke as an "extremely hard-working man" who can "get things done (that) would otherwise take weeks to get through."

Amb. Richard Holbrooke remembered

2010: Holbrooke's Afghan legacy
Between 2001 and 2005, Grossman served as U.S. undersecretary of state for political affairs, according to his biography on the Cohen Group's website. He was assistant secretary of state for European affairs in the three years before that, and between 1994 and 1997 he was the U.S. ambassador to Turkey.
Last July, he penned a report for The German Marshall Fund for the United States in which he spoke positively of a plan to turn Afghanistan's extensive opium poppy fields directly into green biofuel, saying counter-narcotics goals and environmental concerns could be matched by such a project.
While serving under President George W. Bush, Grossman gained headlines in 2002 when he criticized the then-proposed International Criminal Court as "an institution of unchecked power."
He also testified in the 2007 criminal trial of Lewis "Scooter" Libby, former chief of staff to Vice President Dick Cheney, that he had told Libby that Valerie Wilson was a CIA agent. Libby was convicted of obstructing the FBI investigation into who leaked the covert identity of Wilson, whose husband, Joseph Wilson, wrote a July 2003 New York Times piece accusing George W. Bush's administration of manipulating intelligence to justify the invasion of Iraq.
FOLLOW THIS TOPIC