Pakistan to reappoint, shrink Cabinet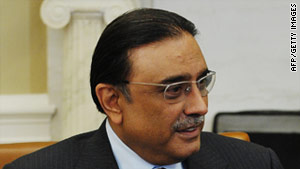 Pakistani President Asif Ali Zardari's office said Zardari's goal is to have "a mean, lean and aboveboard Cabinet."
STORY HIGHLIGHTS
Officials deny the move is related to uprisings in the region
The changes were demanded by "the people," president says
Shrinking Cabinet will improve government performance
Islamabad, Pakistan (CNN) -- Pakistan's ruling party plans to dissolve and reappoint a smaller Cabinet, though they insisted the decision was not related to the recent uprisings in Egypt and Tunisia, party officials announced Friday.
The plan to shrink the Cabinet is an effort to cut spending and improve the government's performance, government spokesman Qamar Zaman Qaira told CNN.
Qaira denied Friday's announcement was a move to preempt a popular uprising similar to those in Egypt, Tunisia and other parts of the Middle East.
"This has nothing to do with the situation in Egypt and the Middle East," Qaira said.
"This is something the people and political parties demanded."
A statement by the office of Pakistani President Asif Ali Zardari said Zardari's goal is to have "a mean, lean and aboveboard Cabinet."
Pakistani Prime Minister Yousuf Raza Gilani will decide when the changes to the Cabinet will take place, ruling party officials said.
The announcement comes amid mounting pressure on the Pakistani government from several fronts to downsize one of the largest Cabinets in the world and improve performance.
The federal Cabinet is comprised of more than 50 ministers.
Critics say that is far too many for a country that's facing a crippling economic crisis. Last month Pakistan's leading opposition party gave an ultimatum to the government to reduce the size of its Cabinet or face public protests.
Last year Pakistani lawmakers passed a constitutional amendment that limits the number of federal ministers following the next parliamentarian elections in 2013.
The government's plan to downsize its Cabinet is an effort to change the perception that it's losing its hold on power, said political analyst Aysia Riaz. "I think it's all that pressure that's making the government reinvent itself at this stage, to do whatever it can to hold onto power."
FOLLOW THIS TOPIC


Most popular stories right now