Monkey with history of biting humans escapes, gets caught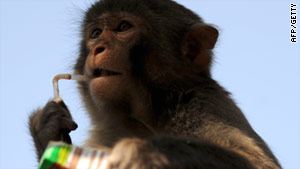 Macaque monkeys live in parks in several areas of Japan, scavenging food from visitors.
STORY HIGHLIGHTS
Lucky the monkey is back at a Japanese park after a day on the loose
Last year, Lucky bit more than 100 people, the park says
No injuries were reported from Lucky's escape
Tokyo (CNN) -- After a day on the run, Lucky the monkey ran out of luck.
The infamous primate -- known for biting more than 100 people near Shizuoka, Japan, in the fall of 2010 -- escaped from a Japanese park Monday morning and was captured around 7:30 a.m. Tuesday, according to the Rakujuen Park in Mishima, Japan.
Lucky, who is about 4 or 5 years old, escaped when her handler opened an inner door of her cage for cleaning without locking an outer door, according to the park.
Officials in Mishima worried that Lucky could pose a danger to residents and instructed them to lock their doors while she was on the loose, city official Hiroo Sugiyama said.
A caretaker at the park captured Lucky with the help of a witness. No injuries were reported, according to the park.
In last year's biting spree, Lucky bit most of the victims on the hands or legs. She has been in the care of Rakujuen Park since October 2010, the park said.
FOLLOW THIS TOPIC