1 of the 7 oil workers rescued in the Gulf of Mexico dies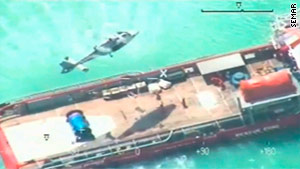 Seven oil workers were rescued in the Gulf of Mexico on Sunday and taken to a local hospital.
STORY HIGHLIGHTS
10 workers went missing from a U.S.-owned oil vessel last week
3 are now confirmed dead; 1 is still missing
The rescued workers were taken to a hospital
(CNN) -- One of the seven missing oil workers found alive in the Gulf of Mexico over the weekend has died, Geokinetics, a Texas-based geophysical service company, said on Monday.
The seven workers were among the 10 who went missing last week when high seas forced them to abandon ship.
Two of the workers were found dead, while one remains missing.
"Obviously, we are thankful for those who survived, but our hearts are heavy and we are deeply saddened by the loss of our co-workers," Richard Miles, president and chief executive of Geokinetics, said in a statement.
The workers were found Sunday morning about 50 miles off the coast of the state of Campeche. They were taken to a local hospital, according to Mexico's state-owned oil company, Pemex.
It was not immediately clear how the workers were found, or what their exacts conditions were.
The workers, contracted by Geokinetics, abandoned ship Thursday afternoon after Tropical Storm Nate caused their liftboat to take on water in the Bay of Campeche, according to Brenda Taquino, a spokeswoman for Geokinetics.
A liftboat is a self-propelled vessel that looks like a miniature oil platform. It is often used to perform maintenance on oil and gas platforms.
The crew of a ship several miles away saw the workers board a life raft, but conditions were too dangerous for them to assist, Taquino said last week.
The life raft did not have a radio aboard, but was stocked with enough food, water and supplies for several days, as well as flares for the nighttime, she said.
Geokinetics and Pemex have said the search will continue for the worker still missing.