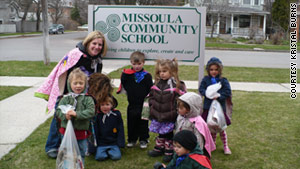 Kristal Burns gathers together some of her "superheroes" this year.
STORY HIGHLIGHTS
One preschool teacher in Montana has her students turn into "Superheroes of Kindness"

The program teaches young children the importance of helping the community

"These kids are not too small or too young to make a difference in their community," she says

(CNN) -- Talk to any group of 3-year-olds, and you're sure to find one who wants to be a superhero. The capes and the costumes can make them feel as if they have magical powers.
At one preschool in Missoula, Montana, the students turn into superheroes for a few days each month. But these superheroes can't fly and don't fight monsters.
Instead, they are "Superheroes of Kindness," and they are learning that they are never too young to make a difference by cleaning up their neighborhood, visiting senior citizen centers and taking part in other acts of goodwill.
CNN's Asieh Namdar talked to Kristal Burns from the Missoula Community School about how she's teaching kids as young as 3 the importance of giving and the power of teamwork.
CNN: Where did the idea of "Superheroes of Kindness" come from?
Kristal Burns: As a preschool teacher, I felt strongly about using compassion, empathy and perspective to teach and help kids embrace learning. I was actually inspired by woman in Pittsburgh. Her name is Laura Miller

. She goes by "Secret Agent L" and goes around her town and does random acts of kindness to make people feel good. So I thought, wouldn't it be great if we could actually do that with these kids? Find a way to teach them so that they can just go out and do random acts of kindness? So we decided to give it a try. I also had a wonderful parent who volunteered to make the capes.
CNN: How do you make sure 3- and 4-year-olds remember and really learn a lesson from all of this? Do you they really grasp this concept at such a young age?
Burns: It has to come from within them. And that's one reason the capes are such a big deal. For these children, being a "superhero" translates into being able to make a difference in someone's life. That is huge, because it empowers them. Over time, they do grasp it. Each time before we go in, we explain what we are doing and who we are going to help.
One of my most memorable visits was to a senior citizen center. I would ask the kids, "Why are we here?" They would say, "To make them smile!" "How are we going to do that?" "We're going to look at them. We're going to say 'Hi.' " At one point, one little girl started crying. When I asked her what was wrong, she looked at me and said, "My heart feels so good right now." She was so overwhelmed with the power she had. And that's what she took home with her that day.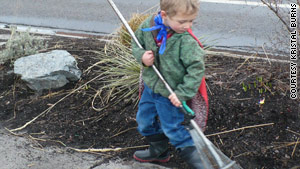 The program teaches kids as young as 3 years old the importance of helping in the community.
CNN: How often do the kids become "Superheroes of Kindness"? And what kind of things have they done?
Burns: We build it in, so it fits in the day. We were trying to do it every other week. In reality, it ended up being about twice a month. Most involve one day of making something special and one day of going out and giving it away. So far, some of the projects we've done include cleaning up a neighborhood for Earth Day, making and delivering special packages to our mail deliverers and cleaning school windows. They also made flowers and pictures and delivered them to an assisted-living center. We also helped them paint a fence. Of course, the adults had to pitch in and finish that one!
CNN: What advice would you give parents who want to raise compassionate children?
Burns: One of the biggest ways is talking through your interactions and your experiences. Let's say I'm with my daughter at the grocery store, and we're checking out, and it just happens the person who is helping us is a little grumpy. I've had my daughter ask, "Why are they upset, Mommy?" I try to explain maybe someone before us was rude to that person or she's tired or wasn't supposed to come into work today. We have to tell them, "Everyone has a story, and we are not here to judge." My other suggestion: Choose something they want to go out and do in their community, but the idea has to come from them. And it's important for parents to make these outings a regular event.
CNN: What about the older kids? Has there been any talk about expanding this?
Burns: We're a private school and only go up to kindergarten, but teachers in other schools have called me to say, "How can I do this within my classroom?" We also get calls and e-mails from adults who want to help and join us on our various adventures. It's overwhelming to see how many people from around the world visit our blog every day.
CNN: What have you taken away from this program?
Burns: We all have a story, and just by being kind, we can open up and find other people's stories. These kids are not too small or too young to make a difference in their community and their world. Every child has kindness, but like everything else, we need to cultivate and nurture it. If we don't, kids may not know how to use it. By watering it, feeding it and learning how to carefully keep away weeds that may want to overtake it, we not only allow the kindness inside to grow, but we learn how use it. Showing compassion without thinking of reward brings great strength and inner power. What a gift to foster in our children and humanity.
FOLLOW THIS TOPIC