Argentinean authorities arrest suspect in tourist murders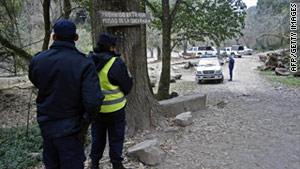 Police officers on Saturday stand at the entrance to a hiking trail where two French tourists were killed in Salta, Argentina.
STORY HIGHLIGHTS
An official reportedly does not rule out the possibility of more arrests
The bodies of two French tourists were found last week
Police sources say evidence indicates one was sexually assaulted
Buenos Aires (CNN) -- Authorities in Argentina have arrested a suspect in the case of two French tourists found dead near a hiking trail last week, the state-run Telam news agency reported on Monday.
The suspect, who was not named in the report, was arrested in the early morning, the agency said, citing Pablo Kosiner, the minister of government and provincial security in Salta province.
He did not rule out the possibility of more arrests, said Telam, which made no mention of a possible motive in the murders.
Other tourists found the bodies of the female victims, who were 23 and 29 years old, Telam reported. They were last seen in the hostel where they were staying on July 16.
The women were "viciously" killed, one shot in the head and the other in the back, the agency said, citing Marcelo Baez, a spokesman for the judicial authority in Salta.
Baez said authorities suspect they could have been held for several days before being killed. Their bodies were found Friday, the Salta government said in a statement.
Evidence indicates one of the victims was sexually assaulted, Telam said, citing police sources.
Their bodies were found in the area of the San Lorenzo ravine in northern Argentina.
FOLLOW THIS TOPIC