Where in the world ... ?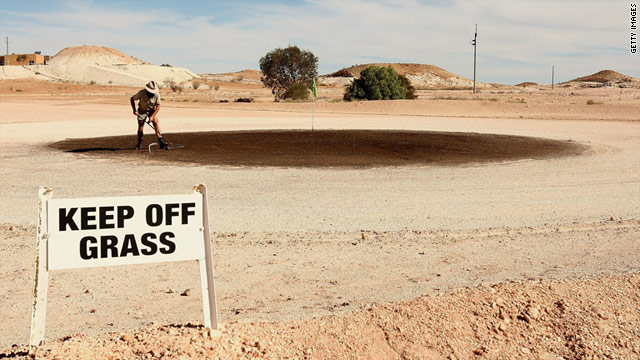 STORY HIGHLIGHTS
Do you know where this photo was taken?

CNN will post a new photo each Monday morning and reveal the answer later that day

The photo might be related to a recent story -- or it could just be something unusual we found
(CNN) -- [Updated 3 p.m. ET, Monday, July 18] The sign is a joke. There's no grass at all on Coober Pedy Opal Fields Golf Club in Coober Pedy, Australia.
The 18-hole, par 72 course is a far cry from Royal St. George's, the site of the British Open this past weekend. But it still has its charms. Golfers carry a piece of artificial grass with them as they hit their ball to "greens" made of oil-soaked sand.
The town of Coober Pedy is in South Australia, about 850 km (528 miles) north of Adelaide. It is known as the "opal capital of the world" for its vast collection of opal fields. According to its website, the name Coober Pedy is derived from the Aboriginal words "kupa piti," which is commonly assumed to mean "white man in a hole."
Congrats to "Techbuster" and "PeteMD" for being the first to correctly guess Coober Pedy in our photo challenge!
[Original post] Do you know where this photo was taken?
If you think you know the answer -- or if you just want to take a wild guess -- post it in the comments area below. Later in the day, we'll reveal where the photo was taken and give credit to those who figured it out first. (The more detail, the better!)
Each Monday morning, we'll post a new photo and challenge you to tell us its origin. The photo might be related to a prominent news story or theme -- or it might just be something that caught our eye.
Good luck!