STORY HIGHLIGHTS
Authorities say attackers targeted a Nicaraguan concert promoter
One suspect denies involvement in Saturday's shooting
Two suspected hit men remain at large, authorities say
Argentina's president declares three days of national mourning for Facundo Cabral
(CNN) -- Guatemalan police arrested two suspects Tuesday in connection with the killing of one of Latin America's most celebrated folk singers, but said evidence shows the musician's death could have been a case of being in the wrong place at the wrong time.
Argentinian singer and composer Facundo Cabral, 74, died when gunmen ambushed him and Nicaraguan promoter Henry Farinas on Saturday in Guatemala City. Farinas was injured in the attack and remains hospitalized.
A preliminary investigation shows the attackers targeted Farinas and not Cabral, Guatemalan authorities said.
"There's no indication that the ambush was directed against Cabral," Guatemalan President Alvaro Colom told CNN en Español on Monday. "The bullets were concentrated on the driver's side of the car, being driven by the promoter."
Hit men could have used as many as three cars in the attack, investigators said.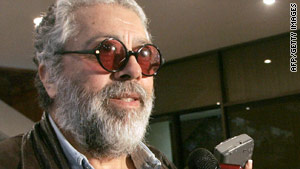 Argentine folk singer Facundo Cabral, 74, gained fame as a protest singer.
Authorities alleged Tuesday that Elgin Enrique Vargas Hernandez, 35, was the operation's mastermind. Wilfred Allan Stokes Arnold, 29, is accused of being one of the hit men hired to kill Farinas. Two other suspected hit men remained at large Tuesday, authorities said.
Speaking to reporters in Guatemala after his arrest, Vargas denied being involved in Saturday's killing and said he did not know why he had been detained.
Prosecutors allege that security camera videos show two suspects waiting in the lobby of the hotel where Cabral was staying and later driving away from there. Guatemalan Attorney General Claudia Paz y Paz told reporters that "scientific proof" linked the suspects to the attack.
Guatemalan authorities are under pressure to solve Cabral's murder fast. The folk singer, dubbed "the messenger of peace" by his fans, was a revered and beloved artist for generations of Latin Americans.
Argentinian President Cristina Fernandez de Kirchner declared three days of national mourning as the singer's remains arrived in his home country Tuesday.
Reacting to the murder, Guatemalan writer Carolina Escobar said her country felt great sorrow and anger.
"It's a sense of guilt that's making us tell the world 'forgive us, because in this place was killed a universal being who carried a message of love and justice everywhere he went,' " she said.
Ernesto Justo Lopez, Argentina's ambassador to Guatemala, said his country doesn't feel any animosity toward Guatemalans for Cabral's killing.
"You can't hold New Yorkers responsible for the death of John Lennon. Likewise, you can't hold Guatemalans responsible for the death of Facundo Cabral. I think [the artist himself] would've been the first one to recognize it," Lopez said.
Farinas, the promoter, was driving Cabral to the airport when they were ambushed. The singer had performed the night before in the western Guatemalan city of Quetzaltenango.
In an interview with CNN en Español in September 2009, Cabral said that he had lived a "great life" and that he would die a "happy man."
The folk singer said he was grateful for the opportunity to travel around the world during his long and productive career, and he emphasized that his concerts were about much more than his music.
"When people leave my concerts, they're better human beings than they were when they arrived, but not because of me... not because of me," Cabral said. "It's because the main character of my concerts is life, and life is exciting."
FOLLOW THIS TOPIC