Where in the world ... ?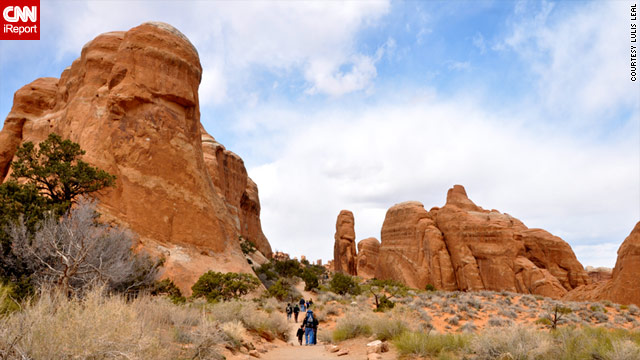 STORY HIGHLIGHTS
Do you know where this photo was taken?

CNN will post a new photo each Monday morning and reveal the answer later that day

The photo might be related to a recent story -- or it could just be something unusual we found
(CNN) -- [Updated 4 p.m. ET, Monday, July 11] This photo is from Arches National Park in eastern Utah.
The park is home to more than 2,000 natural sandstone arches, according to its website, and many other majestic rock formations can be seen from its trails. The most famous landmark there is probably the Delicate Arch, which is on some Utah license plates.
You can see photos of Arches and other national parks in this gorgeous gallery we posted on Fourth of July weekend.
Many readers got the answer right in our photo challenge, but "ghrs47" was the first to definitively say Arches.
A very popular guess was the Garden of the Gods in Colorado Springs, Colorado. It's not hard to see why.
[Original post] Do you know where this photo was taken?
If you think you know the answer -- or if you just want to take a wild guess -- post it in the comments area below. Later in the day, we'll reveal where the photo was taken and give credit to those who figured it out first. (The more detail, the better!)
Each Monday morning, we'll post a new photo and challenge you to tell us its origin. The photo might be related to a prominent news story or theme -- or it might just be something that caught our eye.
Good luck!