STORY HIGHLIGHTS
New: Duke of Cambridge: "... it will be an adventure we will never forget"
New: Royal couple blush and beam at explosive welcome
It is the couple's first official trip since their wedding in April
Prince William says it is a "great privilege" to be invited to Canada
Ottawa (CNN) -- Britain's Prince William and his wife, Catherine, joined a crowd of almost 300,000 Canadians to mark the celebration of Canada Day.
Friday marks the 144th anniversary of the country's independence and what would have been the 50 birthday of Diana, Princess of Wales.
The Duke and Duchess of Cambridge were flanked by members of the Canadian Guard as they made the one-mile journey from the Canadian Museum of Civilization to the lawns of Parliament Hill in Ottawa.
The royal couple blushed and beamed as crowds erupted in applause. Prince William thanked the crowd in both French and English for their "extremely warm" welcome.

Covering William and Catherine

A visit of royal proportions

Food fit for royalty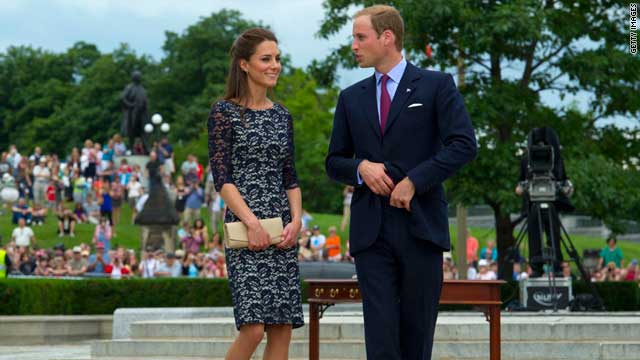 Gallery: William and Kate in Canada
In addition to conveying his grandmother's wishes for a happy day of celebration, the duke took a moment to recognize the Canadian armed forces serving in Afghanistan.
"This is an important moment for Canada for this month the servicemen and women in the Canadian armed forces cease their combat role in Afghanistan," the Duke said.
"N'oublions jamais," never forget, he added in French referring to the sacrifice of Canada's servicemen.
"Catherine and I are also thrilled and excited by the prospect of the next 8 days ... it will be an adventure that we will never forget," he said.
The itinerary for the nine-day tour features a mix of official events with and less formal activities, including a cooking workshop in Montreal and the Calgary Stampede, an annual rodeo and festival.
This is their first official foreign trip as a married couple.
Earlier in the day, the royal couple welcomed 25 of Canada's newest citizens at a Citizenship Ceremony. Prince William smiled and shook each persons' hand while the Duchess passed out Canadian flags.
Thousands camped out on Parliament Hill with the hopes of nabbing the perfect spot to see the royal couple as they participate in celebrations.
Kate wore a creme dress by Canadian designer Reiss to the ceremony, CNN affiliate CTV reports. She also donned a red hat topped with maple leaves and the Queen's Maple Leaf broach.
Prince William and Kate arrived in Ottawa on Thursday aboard a Royal Canadian Air Force jet.
"Catherine and I are so delighted to be here in Canada. Instilled in us by our parents and grandparents, we love this country. We have been looking forward to this moment for a very long time," William said.
Prince Charles and Diana visited Canada in 1983.
They attended a series of events, including laying a wreath at the National War Memorial to recognize Canada's servicemen and women. On Thursday evening, they met with young Canadians at a barbecue.
Widespread support for the monarchy makes Canada, which is part of the Commonwealth -- a loose association of nations that were once part of the British Empire -- a pretty safe bet for a debut royal tour, correspondents say.
However, anti-monarchy protesters are expected to demonstrate Sunday at Quebec City Hall.
This is not the first trip to Canada for Prince William, who was mobbed by screaming girls when he visited in 1998.
"I have wonderful memories from my last times in Canada, and as such we consider it a great privilege to have been invited to Canada for our first joint tour," he said.
The itinerary also includes stops in Prince Edward Island -- where Prince William will take part in a coast guard rescue exercise -- the Northwest Territories and Alberta.
After they wrap up their Canadian tour, the prince and duchess will head to California for three days.
CNN's Max Foster contributed to this report.
FOLLOW THIS TOPIC