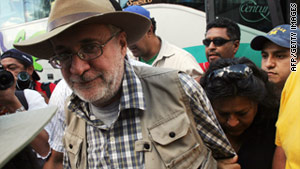 Mexican poet Javier Sicilia appears at an anti-violence event in San Luis Potosi, Mexico, on June 5.
STORY HIGHLIGHTS
Poet Javier Sicilia is scheduled to meet with Mexico's president Thursday
He and other activists argue that Mexico must change its crime-fighting strategy
Historian: "He's more than just an intellectual. He's a person that's been directly affected"
A senator calls on Calderon to be open-minded to Sicilia's demands
Mexico City (CNN) -- A Mexican poet who leads a popular anti-violence movement will demand a change in the nation's crime-fighting strategy when he meets with President Felipe Calderon this week, activists said.
Poet Javier Sicilia and other members of his group will request specific responses about modifying Mexico's approach to national security, human rights advocate Emilio Alvarez Icaza told reporters Tuesday.
They will also call on the Mexican government to devote more attention to victims of violence, Alvarez said.
The activists argue that Calderon's crackdown on cartels, which began in December 2006, has sparked a spike in violence throughout the country. More than 34,600 people have been killed in drug-related violence since then, according to government figures.
Sicilia and other activists will meet with Calderon and several members of his Cabinet on Thursday at the National Anthropology Museum in Mexico City, a location which Sicilia said stands for the "national re-foundation" Mexico needs.
News of the meeting this week was a significant boon for the movement, which has swelled in size since Sicilia joined its ranks after the March slaying of his son.
In an interview Tuesday, Sen. Carlos Navarrete called on Calderon to remain open-minded in his meeting with Sicilia.
"The power must be able to listen to the whispers and the cries that are coming from many corners of the country," he told the state-run Notimex news agency.
Activists touted the meeting as a sign that their numbers have grown so large that the government has to hear their concerns.
"The Mexican government is willing to hear from the public via Javier Sicilia. That speaks to the importance of the movement," said Celeste Gonzalez de Bustamante, a historian who has studied social movements and the media in Mexico.
Sicilia is a powerful voice about violence who has drawn widespread attention and media coverage, she said.
"He's more than just an intellectual. He's a person that's been directly affected by the wave of violence. ... Artists and poets have a way of being able to relate to the public, as well as get the ear of government officials, because of their way of expressing what is happening," said Gonzalez de Bustamante, an assistant professor of journalism at the University of Arizona.
Police found the lifeless body of Sicilia's 24-year-old son and six others crammed inside a car in the central Mexican town of Cuernavaca on March 28. Masking tape was wrapped around their heads, faces, wrists and ankles.
Authorities believe all seven victims suffocated, and they have said members of Mexico's Pacifico Sur cartel are suspects.
Less than a week later, Mexican media reported that Sicilia had written his last poem. He read it beside a memorial for his son in Cuernavaca's central square.
"The world is no longer dignified enough for words," he said, according to the state-run Notimex news agency.
The case of Sicilia's son has captivated the Mexican public and the country's media.
Thousands joined him in "caravan of solace" protest marches across the country, culminating in Mexico City and the violence-plagued border city of Juarez.
At the Mexico City march, demonstrators proposed a national pact that included "demanding an end to the strategy of war," the removal of corruption from all three levels of government in less than six months, and the quick solving of several notable high-profile cases -- including the killing of Sicilia's son.
Hundreds of civil organizations signed the pact earlier this month in Ciudad Juarez.
But another well-known Mexican activist has said Sicilia's movement has been "polluted" by political opportunists, a claim Sicilia denies.
"They joined the movement with their own agenda, with very specific demands, and this polluted, I think, the cause," Isabel Miranda de Wallace told CNN en Español earlier this month.
Still, Miranda de Wallace, who became an outspoken activist and made headlines across Mexico after the 2005 killing of her son, said the movement could be rescued. And she praised Sicilia's leadership.
"He had the willingness to be able to work with the pain of many people ... who did not have a voice, who did not have a microphone to express themselves," she said.
On the eve of one of Sicilia's marches last month, Calderon issued a statement reiterating his government's commitment to fighting organized crime.
"Retreating from the fight is not an option. Quite the opposite. We must redouble our efforts, because if we stop fighting, they are going to kidnap, extort and kill all over the country," he said. "Because marching back means things will get worse. If we retreat, we will allow gangs of criminals to walk all the streets of Mexico with impunity, assaulting people without anyone stopping them."
And even as the anti-violence movement gains ground, some security analysts say Mexican officials may have little choice but to stay the course, despite proposals to change direction that will likely emerge as part of Mexico's 2012 presidential campaign.
"As the Mexican election approaches, the idea of accommodating the cartels may continue to be presented as a logical alternative to the present policies, and it might be used to gain political capital, but anyone who carefully examines the situation on the ground will see that the concept is totally untenable," the Stratfor global intelligence agency said in a report earlier this month.
"The next Mexican president will have little choice but to follow the policies of the Calderon administration in continuing the fight against the cartels," the report concluded.
CNN's Catherine E. Shoichet and Mario Gonzalez and journalist Mauricio Torres of CNNMexico.com contributed to this report.
FOLLOW THIS TOPIC